Episode 149: Kataza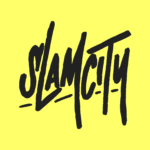 Gemini, Foxtrot, Burrito, and Arthur drop some audio to bring the Slam Citizens another dynamite episode of Slam City.
Gemini discusses "overcornification". Have you ever heard of Howl-O-Scream?
Burrito's Dictionary Discovery: Meef
MEEF™ is a cultured meat solution that uses your own stem cells as starter cultures so that you're guaranteed to get the specific nutrients your body NEEDS.
A lexitor is a person that sells words.
Burrito got a new Hedorah shirt.
Top 10 Spicy Chicken McNuggets
McD's sauces
All-Purpose
Fan Mail on paper in cursive
Balmuda Triangle
What I Had For Lunch: Arthur had Taco Bell, Gemini had a Jimmy Dean's breakfast bowl, Burrito had Krispy Kreme doughnuts, and Foxtrot had omurice.
This is the Newz
Chuck E. Cheese is plotting an animated TV show and a live-action movie starring its mouse mascot.
Tiny Rubik's Cube goes on sale in Japan for the anniversary.
Bank manager finds 9.07-carat diamond in Arkansas state park.
Troublesome South African baboon evicted for raiding homes.
Woman told the officer 'I have to poop so bad' before high-speed chase.
Kraft introduces Pumpkin Spice Macaroni & Cheese.
Nissan Murano's Urban Adventure on Unfinished Bridge Is a Clueless Driver Classic.
Driver given parking ticket after leaving rude note demanding not to be fined.
This pro wrestler pooped himself mid-match, then turned it into the promo of the year.
Man who erected a giant wooden penis on his lawn fights to keep it up.
Secret 'Man Cave' Discovered Below Grand Central Platform; 3 Subway Workers Busted.
Parrots removed from UK safari park after teaching each other to swear.
Rapper Lil Yachty was arrested for driving 150 mph in a Ferrari.
Whataburger is jumping on the spicy chicken sandwich trend.
NASA Launching $23 Million Toilet to International Space Station.
Man Dumped Two Sacks of Eels Into Prospect Park Lake.
AI deepfake videos to make up '90% of online content' in just five years.
Bisexual pastor-turned-stripper 'blesses' the world with her 'sacred' sexuality through OnlyFans.
Vermont zucchini in the running for world record.
A Utah man stole a truck for an alien encounter, but felt bad and returned it.
Taro Kono, Japan's administrative reform minister, declares war on faxes.
Face of Elvis appears in giant wave as 65mph winds hammer the east coast.
Man steals a puppy from a couple at knifepoint.
Two drunk women, one naked, charged for fighting on front lawn: University Hts.
Rude graffiti is painted around town's potholes.
250K+ saws sold at Lowe's recalled, might not turn off.
Model with unibrow claims she's harassed daily, denied work because of her look.
£100m of seized cocaine 'barely covered by bananas' was 'heading to Scotland'.
You can go back to the office—you just need a virtual-reality headset.
Why helium-free "vacuum balloons" could save physics research.
McDonald's All-Day Breakfast Might Not Ever Come Back To Menus.
Florida man claims he was injured by Chicken McNugget, sues McDonald's.
Top 10 Most Popular Fast Food Chains in America.
Zombie Skittles suspiciously good at mimicking the taste of rotting flesh.
The Burrito Pop Will Ensure You're Only a Mess on the Inside.
Pumpkin spice mac and cheese is coming but there's a wait list.
Man travels 100 kilometers in the middle of the night in Japan to punch another dude in the throat.
Pantone launches a bold new color to combat menstruation taboos.
Sandwiches in Subway 'too sugary to meet legal definition of being bread'.
Weirdest plastic model ever – A 1:1-scale Cup Noodle, including the ramen and toppings.
Fight over milk sends a Florida man to jail.
NJ cops get nearly $2.5 million payout for alleged dildo harassment.
Pakistani man cracks 254 walnuts with his head for Guinness record.
Mountain Dew gets into the hot sauce game.
WTF We Learned This Week
Deepfake Sponsors: Sogi Crispee Flakes, Jankem Podz, Booba Gettz The Crazy One, Blo-N-Go Hair Dryers
Added October 07th, 2020