Episode 152: Little Kurt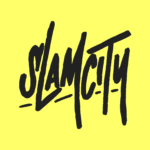 Gemini, Foxtrot, Burrito, and Arthur travel through the Quantimino™ to Daddy Juice Energy Studio in the Beaded Curtain District for another fantastic episode of Slam City.
Gemini asks Burrito and Foxtrot who would play them in a Hollywood movie. Burrito would be played by Andrew Garfield or Michael Cera. Foxtrot would be played by Bruce Lee, Jet Li, or Chun Li. Near the end of this episode, the suggestion of Foxtrot being played by Bobby Lee is brought up. Gemini would be played by The Rock.
Gemini, Foxtrot, and Arthur try Dunkin's Spicy Ghost Pepper donut. There was some heat, but they were not impressed.
Burrito's package has not arrived, so he's filing an insurance claim.
First episode of Exhibit A on Netflix. Thank You, Soldier.
The Boys from Amazon Prime.
The two Guinness World Records broken for longest legs last episode was for longest legs for a female and longest legs for a teenager, not left and right legs.
How we enjoy Reese's Peanut Butter Cups.
Gas station food.
Smartphone dependency, MapQuest maps.
What I Had For Lunch – Foxtrot had a top shelf frozen pizza. Burrito had a torta from a Tex-Mex restaurant. Arthur had BOGO chicken wings with seasoned fries. Gemini had tacos with jalapeño sausage, avocado, and corn.
This Is The Newz
Cells at San Diego Zoo lead to cloning of an endangered horse.
Pumpkin weighing 2,350 pounds wins California contest.
LA Rapper Who Boasted About Getting Rich From Unemployment Fraud on Youtube Gets Arrested — for Unemployment Fraud.
A plane passenger was caught smuggling gold nuggets in rectum to avoid taxes.
Coca-Cola will discontinue the iconic diet soda.
The chilling story of 'Frozen Charlotte' and the corpse-like dolls that bear her name.
Rapper Nelly touched by beer-can shout-out from Budweiser: 'Something to live up to'.
The Flaming Lips performed a concert with the band and fans encased in plastic bubbles.
'Home Improvement' star arrested, accused of choking girlfriend.
Japan-Themed Street Opens In China For Travel-Starved Tourists.
Japan To Release Radioactive Fukushima Water Into the Ocean.
Japanese KitKats are shrinking, Nestlé says the previous size may have been "too large" for customers.
New Yorker Suspends Jeffrey Toobin for Zoom Dick Incident.
Married father of 3 wears skirts, heels to work because 'he can'.
Teenager Finally Achieves Her Dream Of Dating Godzilla.
Burger King is releasing a Fake Burger in Japan.
Van Damme saves the life of a chihuahua after a row over a fake passport.
Sushi pizza: surprisingly Canadian, surprisingly great.
'Fast and Furious' Franchise to End With 11th Film, Justin Lin Directing.
McDonald's Franchisees Are Working On Ways To Fix The Chain's Broken Ice Cream Machines.
'Glitter bomb' sent to employee of 911 center in Pennsylvania.
Bees everywhere on I-81 after a crash in Luzerne County.
OxyContin maker to plead guilty to federal criminal charges, pay $8 billion, and will close the company.
Quibi Is Shutting Down Barely Six Months After Going Live.
Jealous woman knifed a man in front of witnesses weeks after she bit his testicles.
Cocaine worth $500m found hidden in charcoal shipment.
Nine members of the same family die after eating homemade noodles kept in the freezer.
Reese's Robotic Halloween Door Safely Dispenses Free Peanut Butter Cups.
Woman trespasser arrested after telling cops her name was 'My B*tt Just F**ted'.
An Iowa woman has a deceased pet cat cloned.
AMC Theaters offer private screenings starting at $99.
Sale of Notorious B.I.G.'s plastic crown sets Guinness record.
'Breathable Bacon' face mask gives wearers the aroma of bacon.
Japanese sake giant creates gin from 80,000 recycled Budweisers.
Flippy, the $30,000 automated robot fast-food cook, is now for sale with 'demand through the roof'.
This Man Blended Whiskeys From All 50 States to Make the Ultimate American Spirit.
A Disturbing Twinkie That Has, So Far, Defied Science.
Japanese Artist Itsuo Kobayashi Draws Every Meal He's Eaten for Over 30 Years – Food Is Love.
Scientists Just Accidentally Found A New Organ Hidden Inside The Human Head.
Banksy's 'Show me the Monet' painting sells for nearly $10 million.
WTF We Learned This Week
Only Fan Mail
Deepfake Sponsors: Jankem Podz, Julio Tejas, Booba Gettz The Crazy One, Blo-N-Go Hair Dryers.
Added October 27th, 2020