Episode 164: Slurp Game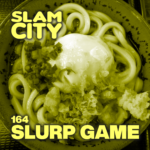 Gemini, The Burrito Bandito, and Arthur continue their brainstorming session for the hit original series Wilderness Man and discuss crane games, Moira Quirk, odd news commentary, what they had for lunch, skating rinks, and things that they learned. Eric America joins the banter.
Double X Quantimino.
Wilderness Man Brainstorming Session: Dude stuck in the wilderness. Gotta keep himself sane.
Wilderness Man characters: Ezekiel the Squirrel, Babbling Brooke, Scott Forest, Trey the Tree.
Wilderness Man game show ideas.
3 Mbps Upload Speed.
Choking on Food.
Burrito's Nippon News.
Japan now has talking Evangelion ATMs.
Shinjuku arcade breaks the Guinness World Record for having the most crane games.
Sakura is set to bloom early in Tokyo.
Cherry blossom curry is set to bring spring to your plate even before the sakura arrive.
Crane Games.
American Gladiators.
The Floor Is Lava.
Legends of the Hidden Temple.
Moira Quirk.
Movie Idea: 2000 Late.
This Is The Newz.
Auction bids are topping $57,000 for a rare $20 banknote with Del Monte sticker on it.
A woman ruled dead in 2017 fights to be declared alive.
Gwyneth Paltrow's 'vagina' candle reportedly explodes in UK woman's home.
Hot Pockets stuffed with 'glass and plastic' shards spark mass recall.
Taco Bell Enters the "Chicken Wars" with a New 2021 Offering.
China debuts a train prototype that can hit speeds of 620 kilometers per hour.
1st preserved dinosaur butthole is 'perfect' and 'unique,' paleontologist says.
'Cocaine bananas' arrive at Kelowna grocery stores after mix up from Colombia.
What I Had For Lunch.
Skating rinks, heely fight club.
Zachary's Redemption.
Megalo Box.
Learning Corner with Eric Van Wilder AKA Eric America.
500lb cactus arm.
Animal Crackers.
Revenge Bedtime Procrastination.
Deepfake Sponsors: Julio Tejas, Booba Gettz The Crazy One, Blo-N-Go Hair Dryers.
Added January 28th, 2021