Episode 167: Thought Audit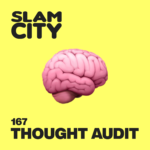 We saved you a seat at the lunch table where Gemini Jackson, The Burrito Bandito, Soggy Ben, and Arthur deliver a Quantimino™ powered triple uranium episode from Daddy Juice Energy Studio in the Beaded Curtain District.
Double X Quantimino
Whale That Washed Up on Florida Beach Turns Out to Be an Entirely New Species
Cryptid discussion – Chupacopycat, Daddy Bigfoot
If you had 24 hours left to live, how would you spend those 24 hours?
What does Brian McFly keep in his bug out bag?
This Is The Newz.
'First 3D-printed home in U.S.' for sale in New York.
Four travelers eat 66 pounds of oranges to avoid extra airline fees: 'Never want to have any oranges again'.
Subway offers 'ITSREAL' deal on tuna subs following fake fish allegations.
Man in bond court attempts to virtually flirt with the judge.
Japan Looks To Amend Copyright Law To Force Some Cosplayers To Pay To Cosplay.
Burrito's Nippon Newz.
Japanese train driver falls asleep while operating a train.
Former schoolgirl sues Tokyo high school that made her drop out for breaking no-dating rule.
Man arrested in Japan for selling modified Pokémon to Sword and Shield players.
Pokémon Centre in Japan apologizes for a mistake, makes plushie even more valuable.
More Newz.
Man accused of groping an EMT at the scene of a Bronx fire was having a seizure.
'I'm not a cat,' says lawyer after Zoom filter mishap.
Man pleads guilty to placing dead animals on neighbor's gravestone while dressed as a woman.
WWE stars put POO in Dwayne Johnson's lunchbox and warned him to not leave food.
Sea cucumbers pinch out '5 Eiffel Towers worth' of poop per reef, per year.
Man killed after cannon explodes at baby shower.
Tour Joe Pesci's Mansion, Which Is Covered in Joe Pesci Posters.
Chinese researchers send an 'uncrackable' quantum message to space.
A hacker modified drinking water chemical levels in a US city.
Police seize $60 million of bitcoin! Now, where's the password?
Cops playing copyrighted music to stop video of them being posted online.
Japan's Kitchen Origin Is Selling a 12,000-Calorie Bento Called the "Meat Castle Wall".
Raising the steaks: First 3-D-printed rib-eye is unveiled.
Taco Bell Releases All-Purpose Seasoning.
What I Had For Lunch.
Cheese Whiz, Whiz Poisoning, Whizzing.
Eric America's Learning Corner.
A BBC 2 show called Inside the Factory that went behind the scenes at the Nestlé plant in York, England, revealed a little-known fact about the beloved candy bars – the crispy wafers are stuffed with crushed-up Kit Kats. In other words, Kit Kats are filled with other Kit Kats.
A Korean folktale called The Farting Daughter-in-law or Banggwijaengi myeoneuri. It's about a woman who destroys her husband's house with one of her destructive farts which causes his family to throw her out. They take her back after she knocks fruit off a tree with her farts.
Betsy Ross didn't actually make the first American flag in 1776. It was a story made up by her grandson, 100 years later.
R.I.P. astronaut John Young, the first man to get yelled at for smuggling a sandwich into space
…Young never got as much name recognition as your Neil Armstrongs or your John Glenns. But he does hold one absolutely amazing record that deserves to be memorialized today, in a spirit of acknowledging the importance of playfulness (and hunger) in humanity's journey toward the stars: He was the first man to get yelled at by Congress for smuggling a corned beef sandwich into space.
Deepfake Sponsors: Julio Tejas, Booba Gettz The Crazy One, Daddy Juice Energy, Blo-N-Go Hair Dryers.
Added February 20th, 2021