Episode 171: Books, Farts, and Broken Hearts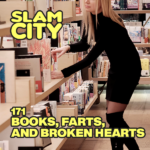 Thought-provoking topics and odd news are discussed on The World's First Quantimino™ Powered Podcast at Daddy Juice Energy Studio in the Beaded Curtain District with your triple uranium hosts and part-time friends Gemini, Burrito, Brian, and Arthur.
Double X Quantimino.
Selling your soul for a billion dollars.
Sitting or standing to wipe. Who does what? Gemini reveals his secret.
True or False?: Cannibal play.
Cannibalism discussion.
Tipping is a Myth.
This Is The Newz.
Sony's latest patent application: a banana PlayStation controller.
Burger King UK Responds to Criticism Over International Women's Day Tweet.
Papa John's former CEO says he's been 'working to get rid of the N-word' in his vocabulary.
Burrito's Nippon Newz.
10 yakuza members arrested for stealing sea cucumbers from the ocean.
Oysters from a Japanese vending machine.
Who actually writes Japan's Letters from Little Sister and schoolgirl love letter capsule toys?
Man arrested for sending 37 death threats to Square Enix because he couldn't win at a game.
More Newz.
Bigfoot bounty balloons to $2.1M in massive campaign to capture creature.
Panda Express workers forced to strip in 'cult-like' team-building seminar, lawsuit alleges.
Cat Attacks Pilot, Forcing Plane To Make Emergency Landing.
Billions Of Insects Have Accidental Sex.
Escaped convict lands himself back in prison after coming out of hiding to buy a video game.
What I Had For Lunch.
Eric America's Learning Corner.
The song 'Who let the dogs out?' sparked a bidding war between Nickelodeon and Disney. Disney wanted it to be in the movie 101 Dalmatians, and Nickelodeon wanted it to be in Rugrats in Paris. In the end, Nickelodeon offered the band their own concert special, and paid the cost of the video.
The "Mariko Aoki effect" is when people have an urge to poop caused by visiting a bookstore.
"Asparagus pee" is actually dependent on two factors. Whether or not someone's body makes the smelly pee, AND whether or not someone can smell said pee.
Deepfake Sponsors: Julio Tejas, Booba Gettz The Crazy One, Daddy Juice Energy, Blo-N-Go Hair Dryers.
Added March 19th, 2021