Episode 173: Power Dynamic Thirty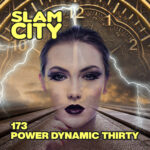 Gemini, The Burrito Bandito, Brian McFly, and Arthur bring you a triple uranium episode filled with Double X Quantimino, odd news commentary, WIHFL, and Eric America's Learning Corner.
Double X Quantimino.
Jurassic Park in our lifetime?
True or False: Topanga.
Amazon Gift Card Challenge.
Burrito's Top 20 DC Heroes.
This Is The Newz.
Immature Hero Bikes 2,550 Miles From Poo Poo Point To Pee Pee Creek For Charity.
Heinz Is Releasing Wild Condiments Like Wasabioli, Tarchup, And Hanch.
Police seize real gun disguised as Nerf toy in North Carolina drug raid.
SF couple who ran trendy poop-testing startup charged with fraud.
Penis Size Is Shrinking Due To Environmental Pollution, Scientist Warns.
Brian McFly's Into The Future
Burrito's Nippon Newz.
Japanese company allows workers to take vacation to grieve if favorite idol singer gets married.
Former idol singer arrested on fraud charges, police say she found victims through dating apps.
Take a break from your hectic day with KitKat's new "Spare Moment Almond and Cranberry".
Foreign citizen arrested in Japan for throwing his bento trash in a mailbox.
More Newz.
Lebanon's skinniest building was reportedly built by a man who wanted to ruin his brother's seafront views.
Taoist master's 'mind control' breast implants has Chinese authorities concerned.
Florida mom shows up to daughter's school wearing a boxing glove, fights the child, and gets arrested.
Australian Government Official's Anime Figures, Joker Statue Declared A "Psychological Hazard".
Upper Peninsula man wakes to intruder holding gun to head, demanding his cats.
What I Had For Lunch.
McQuad Goals.
Eric America's Learning Corner.
White holes are the hypothetical opposite of black holes. For example, the Big Bang might have been produced by a supermassive white hole explosion.
Caesar salad was invented in Mexico.
The glow in the dark effect of phosphorus was discovered by an alchemist boiling his own pee while searching for the Philosopher's Stone: Hennig Brand.
Deepfake Sponsors: Julio Tejas, Booba Gettz The Crazy One, Daddy Juice Energy, Blo-N-Go Hair Dryers.
Added April 03rd, 2021