Episode 175: Fish Out of Water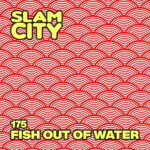 Your one-stop shop for interesting discussions with wandering viewpoints, odd news commentary, food talk, and some fun facts to top it off.
Double X Quantimino.
Baby born with three penises makes medical history.
Nature's Cereal, coconut milk, umami.
The Truman Show with Brian McFly.
Xennials.
The Burrito Bandito's Top 20 DC Villains.
Donkey shows?
True or false?: Greased up donkey hole.
This Is The Newz.
Georgia Man Who Received 91,515 Pennies As Final Paycheck Cashes Out.
Lizard climbs up supermarket shelves as it raids a store for food.
Geologist beaten up by 'angriest octopus' on beach.
Woman thought she was passing a kidney stone in the toilet – but she was having a baby.
Sealed Super Mario Bros. sells for $660,000, shattering record for most expensive game ever.
'Wheel Of Fortune' fans cry foul after contestant loses out due to 'dumb rule'.
Popular female biker unmasked as a 50-year-old man in Japan.
Woman shoots at Burger King employees over wait time at drive-thru.
'I spent $15,000': Man arrested at Disney resort in Florida after refusing temperature check.
Burrito's Nippon Newz.
Japan's Olympic stadium to fill thousands of empty spectator seats with waifu pillows.
Man climbs down the side of a building in Tokyo to steal…a bunch of Pokémon and Yu-Gi-Oh! cards.
Hitachi has an insane onomatopoeia troubleshooting guide for its washing machine.
We try blue beer made with drift ice from Hokkaido.
More Newz.
'Deep Nostalgia' Can Now Make Old Photos of Your Relatives Dance and Blow Kisses.
Woman finds out son's bride is her long-lost daughter on their wedding day.
Stories about Michael Jordan's secret golf course, nicknamed 'Slaughterhouse 23,' are starting to leak.
Woman finds WWII room untouched for decades hidden in 'storage cupboard'.
Cows Are Being Fitted With VR Goggles to Increase Milk Production?
'Chaos of clicks and sounds from below' as 70 orcas kill blue whale.
Pageant Winner Has Crown Grabbed Off Head, Given To Runner-Up.
Rare original Superman comic sells for record $3.25 million.
Home inspector caught on nanny cam pleasuring himself with an Elmo doll faces charges.
Monkeys on the loose on Cincinnati's west side.
What I Had For Lunch.
Eric America's Learning Corner.
A man won the $5.5 million state lottery but had to forfeit the winnings because he bought the ticket with the proceeds of selling 36 grams of cocaine to a federal informant.
3 adult games for the NES were created during the 1990s but Nintendo refused to license them. Peek-A-Boo Poker, Bubble Bath Babes, and Hot Slots are now highly sought after, fetching as much as $800 per game.
On the first day the Suez Canal opened, Nov 17, 1869, a French ship named the Péluse ran aground and blocked the canal, forcing ships stuck in the canal to wait until the next morning when the Péluse was hauled away.
Deepfake Sponsors: Julio Tejas, Booba Gettz The Crazy One, Daddy Juice Energy, Blo-N-Go Hair Dryers.
After Party: More triphallia discussion.
Added April 16th, 2021