Episode 176: May Yonaise Be Praised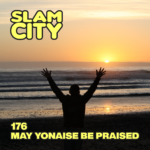 May Yonaise be praised! From tip to taint, Slam City covers the happenings of interesting scholar gentlemen, odd news commentary, food, and expanding knowledge. Recorded at the Daddy Juice Energy Studio in the Beaded Curtain District, your all-time favorite part-time friends bring you a triple uranium podcast that makes people laugh deep inside.
Double X Quantimino.
Slam City's "street franchise" and what they sell.
How do you pronounce "mayonnaise"?
Bryan McFly's Into the Future: Human cloacas and what we can expect in 2069: The Great Genital Swxtch.
J Roper Explained.
Your single favorite euphemism for "rubbing one out".
Burrito is moving out of his home of 9 years to another place.
Collecting trading cards.
White Van Scam Explained.
Introducing Detective Dick Hawks.
This Is The Newz.
Brit who was posted home from Australia wants to find men who nailed crate shut.
Texas Man Tried to Blow Up the Internet.
Door stolen from car at NY dealership.
Jimmy Dean Is Debuting Savory 'breakfast Nuggets'.
Guy steals $21 million of lunar rocks to have 'sex on the moon'.
Colorado looks to legalize human composting — yes, your dead body could become garden soil.
Burrito's Nippon Newz.
Entire crew of Going Merry arrested by police in Japan (no, not on April 1).
The sea cucumbers they poached along the way actually are a sort of treasure.
Original Tokyo Olympics opening ceremony plans leaked, with Akira and Mario taking centre stage.
7-Eleven to build 7-Eleven in the parking lot of another 7-Eleven.
What's it like to shop at Family Mart's first "unmanned convenience store" in Japan?
More Newz.
S.Pellegrino's New Coffee-Inspired Sparkling Water Features a Caffeine Kick.
Egypt To 'Ever Given' Owners: Pay Us $1 Billion Or You Aren't Getting Your Big Boat Back.
A Florida woman who claimed to be Harry Potter killed a judge in a hit-and-run.
Stolen Doritos Truck Chase in Oklahoma City Lasts 100 Miles.
El Paso man kept 29 bags of money while working in an armored delivery service.
What I Had For Lunch.
Eric America's Learning Corner.
Sharks do not have bones.
As Drone Bees mate with Queen Bees mid-flight, all blood in the Drone's body rushes to his endophallus causing him to lose control of his body. After inseminating the queen, his body falls to the ground leaving part of his endophallus in the queen.
The platypus has no nipples. Their milk oozes out of mammary gland ducts and collects in grooves on their skin.
Whales have inverted nipples and produce milk so fatty it has the same texture as toothpaste.
Deepfake Sponsors: Julio Tejas, Booba Gettz The Crazy One, Daddy Juice Energy, Blo-N-Go Hair Dryers.
Added April 22nd, 2021