Episode 177: Medium Rare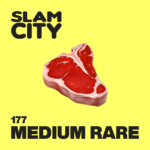 Immerse yourself with The World's First Quantimino™ Powered Podcast and take an audio journey through the unique minds of the scholar-gentlemen from Slam City. Bring a change of clothes.
Double X Quantimino.
Steakhouse Dining.
Chuck roast versus Gemini Jackson.
Mexican butcher shops.
Post Nut Clarity.
Drew Barrymore movies.
McFly's McJob.
McFly's Date Night.
This Is The Newz.
Woman Caught Spraying Her Breast Milk Around At South California Festival.
A Florida McDonald's is paying people $50 just to show up for a job interview, and it's still struggling to find applicants.
McDonald's partners with BTS on a new celebrity meal — with spicy Korean dipping sauce.
Strip club says Usher did not use fake money to tip dancers in Las Vegas.
Two women busted for trying to use a $1M bill — at a Dollar General store.
Cat in Japan alerts people to elderly man who fell into a ditch, made the police chief for a day.
Burrito's Nippon Newz.
Japanese police search for a man who stole 1.1 million yen in tiny fish.
Japanese man was arrested for stealing women's shoes and replacing them with new ones.
Man arrested in Kobe after stuffing fried chicken into woman's mailbox.
Wife takes revenge on her cheating husband by auctioning his Yu-Gi-Oh! collection for millions of yen.
More Newz.
Video shows driver jumping rising drawbridge in Daytona Beach.
Peloton Tread+ Treadmill Safety Incident.
N.C. man throws rabid bobcat after it attacks wife.
Garden gnome shortage strikes due to pandemic and Suez Canal blockage.
Red Lobster Releases Massive "Codzilla" Fish Burger.
Costco Just Made This Big Change To Its Samples.
Drug Cartel Now Assassinates Its Enemies With Bomb-Toting Drones.
TSA finds a lump of crystal meth inside a traveler's breakfast burrito.
This Robot 'Urinates' Beer on Command.
Teenager Arrested For DUI While Operating Amish Buggy In Lawrence County.
SEGA Urged To Pick A Different Font After Promo Picture Looks Like Anal Battle.
Burglar Pleads Guilty After Downloading Porn During Break-in, Leaving Semen on Laptop.
A man bitten while using barbecue tongs to remove rattlesnake.
A man kicked so hard by an attacker his testicle had to be removed.
What I Had For Lunch.
Boomchi Bucks.
Eric America's Learning Corner.
Frogs use their eyeballs to swallow their food by pushing them down to their throats to compact their food into their digestive system.
The Monkey and the Frog.
The Chicken Ranch was the Oldest Continually Operating Whorehouse in the United States when it closed in 1973. – During the Great Depression the "house of ill repute" offered time with a "lady of the evening" in exchange for a chicken. The brothel was listed on the tax rolls as a poultry farm.
When a male octopus finds a mate, he rips off his penis and throws it at the female so she can inseminate herself. Then the male grows a new penis. If that isn't the most epic way to tell someone "Go fck yourself" I don't know what is.
Deepfake Sponsors: Julio Tejas, Booba Gettz The Crazy One, Daddy Juice Energy, Blo-N-Go Hair Dryers.
Added April 30th, 2021