Episode 178: Blood Code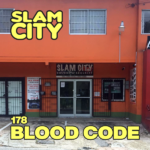 We saved you a seat at our lunch table, the Quantinimo™ powered podcast known across the universe as Slam City. Brian, Burrito, Gemini, and Arthur penetrate deep inside your ears with thought-provoking conversations that reflect the future of humanity today.
Preshow.
Wes Burrito.
Soggy Ben's Sex Journal.
The Take Notes T-shirt.
Bleach stains, radioactive yazz.
Godzilla Versus Dong.
Costco Kenny for Be Praised Mayo.
Double X Quantimino.
Mexican restaurants with dry-ass limes.
Mortal Kombat.
Gas Station Cuisine.
Slam City Sea Cucumbers.
Japanese mosaic ultra massive loads.
Sonic the Hedgehog is canon.
This Is The Newz.
Chicken wing shortage leaves restaurants scrambling for more. 'It's a predicament'.
Nathan's Famous Brings Back 5-Cent Hot Dogs for First Time in More Than 100 Years.
Man builds poop wall in Washtenaw County after dispute with neighbor.
Oklahoma woman charged with felony for not returning VHS tape 21 years ago.
Argentina loses the country's Google domain after a random citizen buys it for $5.
People named Josh battle it out with pool noodles in Nebraska to find the top Josh.
Kids use sandpit shovels to escape kindergarten to try to buy sports car.
Japanese man was arrested after 'dating more than 35 women at once to get birthday gifts'.
Burrito's Nippon Newz.
A Hyogo man was arrested for stealing 13 tiny fish valued at 52,000 yen.
Daiso sells "emergency shelters," and they have an amazing visual trick.
Live-action U.S.-produced Gundam movie is coming to Netflix.
Japanese toilets now measure fatigue levels at highway rest stops.
More Newz.
Kyoto woman accused of stalking police officer who previously arrested her for stalking.
An explosion at gender reveal party rocks several towns.
The oldest whiskey believed to be in existence is soon to be up for auction.
Intruders trespass at Denny's, cook eggs — twice.
Man arrested at airport after 35 birds intended for singing contests found in his clothing.
Japanese Zoo Finds Out Why Its Toucans Keep Flirting but Won't Get It On.
Dunkin' Is Introducing Coconut Milk To Its Stores With 3 All New Refreshers.
What I Had For Lunch.
Eric America's Learning Corner.
That one of the honey badgers defense is to go for the groin area. Basically ripping its prey's testicles off until they bleed to death.
Voice actor Frank Welker has voiced Fred from Scooby Doo continuously since the show's inception except for one series where the characters were children. You may also know him as the voice of Megatron from the live action Transformers movies!
A helium balloon on the moon, unlike what might feel intuitive, would drop to the ground as if it was heavy.
The average American child eats 1,500 peanut butter and jelly sandwiches before they graduate high school; the average adult consumes a PB&J three times a month.
Despite being the best camouflage, mammals cannot produce green pigment, hence the reason there are no green mammals.
Deepfake Sponsors: Julio Tejas, Booba Gettz The Crazy One, Daddy Juice Energy, Blo-N-Go Hair Dryers.
Added May 07th, 2021