Episode 179: Falcon Sex Hat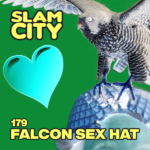 Hold on to your falcon sex hats while you travel through the Quantimino™ with triple uranium hosts Gemini, Burrito, Brian, and Arthur as they bring you into conversations that might make you laugh out loud. Twin Peaks, Pogs, Mortal Kombat, and more!
Double X Quantimino.
Twin Peaks, the breastaurant.
Sir Mix-a-Lot.
Pogs.
Polaris "Hey Sandy" cassette tape from cereal box mail order.
Cole Young and Mortal Kombat.
What is your arcana?
pH Balance.
Leisure Suit Larry.
LiveLeak shuts down after 15 years online.
Model of the Millennium – Brian's Modeling Career.
Histamine response.
'Red Sonja': Hannah John-Kamen to Star in Millennium's Sword and Sorcery Feature.
This Is The Newz.
Man Arrested At Kid Rock's Bar For Removing Colostomy Bag And Swinging It Around.
Denver Beer Co. falls $999,993,870 short of its fundraising goal to buy Rockies.
Rare lobster saved from being dinner at Red Lobster: 'One in every 30 million'.
Burger King Japan Stacks Up New "Shrimp Spicy Ugly Beef Burger".
Japanese town spends Covid-19 funds on a huge squid statue.
Burrito's Nippon Newz.
McDonald's Japan's new "Taste of Mommy" McShake brings a marvelously milky milkshake to the menu.
A Fukuoka man was arrested for breaking into a store, putting on a female staff's apron and shirt.
NFeeTs.
Nintendo is suing Bowser to stop his latest evil plan.
Teacher disciplined for drinking alcohol during class in Japan.
More Newz.
Villager arrested in alleged Whopper-throwing racial tirade.
114-year-old Omahan is now the oldest living American, but she doesn't care.
Anger In 'God Fearing' Village After 'Pornographic Literature' was placed in the Library.
Belgian farmer accidentally moves French border.
Woman files lawsuit claiming Bagel Bites have deceptive packaging, use fake cheese and tomato sauce.
What I Had For Lunch.
Eric America's Learning Corner.
Sugar Daddy was originally called the Papa Sucker. The name was changed to Sugar Daddy in 1932. Sugar Babies were introduced three years later in 1935. A chocolate-covered version, Sugar Mama, was produced from 1965 to the 1980s.
Michael Jordan's first choice of sponsorship was Adidas, and he nearly got the deal before getting vetoed by Adidas's German execs who thought the 6'6" player was "too short". With nowhere to go, he ended up at Nike.
Repeated attempts to capitalize on the popularity of McDonald's Quarter Pounder by releasing competing 1/3 pound burgers have failed because Americans are bad at fractions.
Giant pandas are no longer 'endangered' species.
In 1935 "Happy Birthday to You" was copyrighted with a value of 5M making it illegal to sing. In 2016 a federal judge ruled that the copyright was not valid and the song had no other claim to copyright, placing it in the public domain, and making it free to sing for all.
James Franco once created an invisible sculpture called 'Fresh Air'. It was described as an endless supply of oxygen. Someone actually bought the 'sculpture' for $10,000.
Avocados evolved alongside extinct megafauna like giant ground sloths whose digestive system could pass the intact pit. Human cultivation saved the avocado.
The Falcon Sex Hat is a hat that allows a falcon to have sex with a breeders head to collect the semen.
Deepfake Sponsors: Julio Tejas, Booba Gettz The Crazy One, Daddy Juice Energy, Blo-N-Go Hair Dryers.
Added May 14th, 2021