Episode 181: Good Eye, Sniper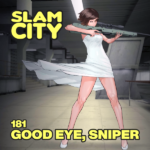 Keep your ears warm and your pants tight with the witty banter and odd news commentary from the World's First Quantimino™ Powered Podcast. Recorded at Daddy Juice Energy Studio in the Beaded Curtain District where 4 out of 5 doctors may have found themselves in compromising positions.
Double X Quantimino.
Albums that you can wipe from front to back.
Masters of the Universe: Revelation.
Burrito's Moving Status.
Brian's Apartment Hunt.
Did Brian make a mistake when he declined anilingus?
This Is The Newz.
TikTok star, 22, is mortified to discover her high school teacher subscribes to her explicit OnlyFans account and even left a comment.
Genius or crazy? Woman fakes her own wedding to get back at ex-boyfriend.
Coronavirus Lingers in Penis and Could Cause Impotence.
High traces of Viagra in Seoul's sewers, research shows.
The salmon in this sushi didn't come from the ocean—it was harvested from a bioreactor.
Mountain Dew Is Releasing a Cake Smash Flavor That Tastes Like Dessert.
Burrito's Nippon Newz.
En garde! Fencer Taxi begins in Tokyo, Saitama, and Kanagawa.
Gorgeous gold Gundams are good-God expensive.
Japan has $10 bananas from the coldest prefecture in the country, but how do they taste?
Attention nagashi somen-iacs! This new Japanese gadget lets you enjoy flowing noodles solo.
Power up like Godzilla with a new limited-edition Godzilla Energy Drink.
King of the Monsters sets out to become King of the Energy Drinks too.
More Newz.
Woman hit in the face with a 10-pound 'log of prepackaged meat' during a fight at Walmart.
Man Lets Beef Rot For Months To Get 'Drunk' In 'High Meat' Craze.
Pigs can breathe oxygen via their rectum, so humans probably can too.
50-car train derails in Albert Lea; 2 cars leaking hydrochloric acid.
Hummer with four containers of gas bursts into flames right after filling up at Homosassa gas station.
Eminem fan spends £71,000 on 'Stan's Revenge' NFT.
7,998 tickets win top prize in lottery drawing with combination 6-6-6.
What I Had For Lunch.
Eric America's Learning Corner.
The foreskin from a baby boy can be bio-engineered to grow and is used in many beauty products like skin rejuvenating lotions, creams and solutions. Medically they're also used in treating burns, persistent leg ulcers, bed sores, reconstructive surgery, etc.
George Washington never wore a wig. He was a natural redhead and powdered it white to look more fashionable.
Water is not colorless. The pure water has a slight blue color that becomes a deeper green as the thickness of the observed sample increases. The blue hue of the water is an intrinsic property and is caused by selective absorption and scattering of white light.
Meat glue exists and is used to hold chicken nuggets together among other things.
When giraffes are born, they fall six feet on their head, but it's the fall that gets them to start breathing.
The most expensive collection of Pokemon cards is valued at over $10 million, by Gary Haase, a 67-yr old father of 3 from Las Vegas.
Deepfake Sponsors: Julio Tejas, Booba Gettz The Crazy One, Daddy Juice Energy, Blo-N-Go Hair Dryers.
Added May 27th, 2021