Episode 183: Burgers, Marilyn, Gyromite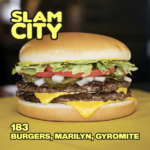 If you are searching for the most thought-provoking conversations from scholar-gentlemen, then look no further than The World's First Quantimino™ Powered Podcast. This time around, we navigate a bracket to decide on the best burger in the universe, deliver our infamous odd news commentary, and drop more of that quality banter that you expect from your favorite part-time friends.
Double X Quantimino.
Best Burger Bracket.
Marilyn Monroe: Was she murdered?
How to get rid of triggers with CBT.
Learning Corner: A fossilized turd (coprolite) measuring 8 inches long and 2 inches wide.
More learning: The term "old as f**k".
Arthur the Arbiter revisits the concept Kids Eat Free.
This Is The Newz.
Steak 48 faces online backlash to new spending minimum, dress code.
Sonic Introduces Bursting Bubbles Drink Lineup.
Teen spent six years digging an underground home in the garden after a fight with parents.
Lil Uzi Vert removes his $24 million diamond that was implanted in his forehead.
Pizza Hut is bringing back a fan favorite, The Edge, a thin-crust pizza "packed with toppings all the way to the edge.
Overdue book returned to Irish library after 64 years.
A Bob Dylan record returned to an Ohio library was 48 years overdue.
Burrito's Nippon Newz.
Now you can become a cute virtual avatar with just the power of your voice
Japanese masturbatory aid Tenga creates a tissue-dispensing hat for…various purposes.
How to turn McDonald's chicken nuggets into tasty katsudon in five minutes.
Gyoza Cider: Possibly the worst drink we've ever tasted.
Student in Japan leaves a flat-tire bike in the park for a few hours, and finds a surprising letter when he returns.
More Newz.
Children, 12 and 14, use AK-47, other guns in shooting rampage on Volusia deputies.
Man threatened to kill people over a pornographic video.
Teens use beer to help put out a brush fire near Bush Highway.
Drug-sniffing police dogs forced into early retirement as recreational marijuana becomes legalized.
English road left looking like a 'horror film' after tomato puree spillage.
Italian Artist Sells An Invisible Sculpture For Real Money.
Former Make-A-Wish Iowa CEO pleads guilty to embezzling nearly $41,000.
"Everything INCLUDING the kitchen sink," Oklahoma City Police search for suspect in local business theft.
What I Had For Lunch.
Sammies.
What would your robot name be?
Brian had one of his songs licensed in a porn video.
Deepfake Sponsors: Julio Tejas, Booba Gettz The Crazy One, Daddy Juice Energy.
Added June 11th, 2021