Episode 184: King Cone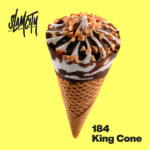 The World's First Quantimino Powered Podcast is recorded especially for you at the Daddy Juice Energy Studio in the Beaded Curtain District.
Double X Quantimino.
What are you ordering from the Ice Cream Truck?
Favorite news tropes for our non-NFT trading cards.
Among Us BTS McNuggets.
Arthur the Arbiter had an actual BTS Meal.
True or false: Karen O from Yeah Yeah Yeahs.
Does Batman go downtown?
This Is The Newz.
Semi-truck carrying fireworks crashes, catches fire on I-294 in Berkeley.
18 Wheeler spills produce along a highway Sunday morning.
Months-long battle over a $50 parking ticket ends up costing Brookfield thousands.
South Korean designer creates 'Third Eye' for 'smartphone zombies'.
Special Loki Charms Cereal Brings Mischief to Breakfast.
Australian researchers discover why only two of echidna's four penis heads become erect at one time.
How scientists taught monkeys the concept of money. Not long after, the first prostitute monkey appeared.
Naked Florida woman is tasered by the police after trashing a restaurant.
Japan Has Released the World's First Edible and Functional Face Mask.
Burrito's Nippon Newz.
Japanese cat owner has to sell sports car to pay for medical bills, finds best buyer in the world.
Domino's now sells pizza rice bowls in Japan.
Coronavirus gives birth to new "Screambulance" haunted house delivery in Japan.
Suitcase with corpse inside washes up on shore of Japan's largest lake.
More Newz.
Predictably, people want to rail Samsung's rejected AI mascot.
'I was completely inside': Lobster diver swallowed by humpback whale off Provincetown.
NBC Sh-t Show: 'Ultimate Slip 'N Slide' Production Shut Down Over 'Explosive Diarrhea' Outbreak.
Johnny & Jugnu: Fast food staff arrested for not giving police free burgers.
Scots cafe stunned by ransom note demanding cheesecake for safe return of gnome.
eBay bans sales of adult-only items.
Dunkin's new menu item, Popping Bubbles, explodes in your mouth.
Space Jam! Freeze-dried mouse sperm returns from ISS some six years later to produce healthy 'space pups'.
An Olympic Hopeful Blames A Burrito For Her Positive Drug Test.
What I Had For Lunch.
After party: Brian's "The one that got away"
Deepfake Sponsors: Julio Tejas, Booba Gettz The Crazy One, Daddy Juice Energy.
Added June 25th, 2021