Episode 185: Everyone Out of the Pool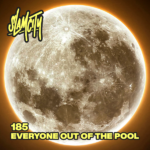 You didn't know you needed Slam City until you couldn't live without it. If you're not into Slam City, then it's not for you. If you are into it, welcome to the club.
Double X Quantimino.
The ska revival is here, but ska never really went away.
Mindy Kaling's new "Scooby-Doo" spinoff makes many changes.
Scooby-Doo meets Courage the Cowardly Dog.
Faster and Furiouser? F9 marks 20 years since the first release.
Thigh Stop. It's like Wingstop, but Thighs.
Zettai Ryouiki.
Arthur the Arbiter: Five Percent Off
Eric America calls in: Snails are hermaphrodites. When they mate, they stab a spike into each other. Then their penises go into each other's vaginas. Whoever placed the spike better has their sperm survive and the other becomes the mother snail.
Get to know your fearless and greasy hosts versus society.
Gemini Alpha Versus Brian's The One That Got Away.
Songs that use breathing sounds – Tell Me Something Good.
Jimmy Cox.
This Is The Newz.
A herd of cows stampedes through Los Angeles after breaking free from the slaughterhouse.
Lobsters get stoned for science and, shhh, a more humane way to boil them alive.
Scantily-clad fan invades Belgium-Finland Euro 2020 game.
Florida Woman, Naked, Trashes Outback Steakhouse And Throws Wine Bottles At Cops.
Georgia Boy Scouts find empty lot after booking Airbnb rentals in Big Pine Key.
'I was horrified': Largo woman discovers $1B in her Chase bank account.
Burrito's Nippon Newz.
A Shinkansen driver was disciplined for taking a poop break while the train was going 150 kilometers an hour.
New unstaffed store in Tokyo sells entrails 24 hours a day.
Japanese woman asks for advice on how to deal with the smell of son's corpse and gets arrested.
Crazy pigeon dating simulator Hatoful Boyfriend being delisted for PlayStation, iOS, and Android.
Original McDonald's character Speedee makes a comeback in Japan.
More Newz.
Coors Is Releasing An Orange Hard Seltzer Ice Cream Infused With Booze.
Mouse plague forces an Australian prison to evacuate.
Elderly zoo penguin with arthritis gets shoes to provide relief.
42,000 pounds of missing pistachios leads to possible illegal pistachio operation.
Web designer gives his baby boy bonkers name in homage to his profession.
What I Had For Lunch.
Deepfake Sponsors: Julio Tejas, Booba Gettz The Crazy One, Daddy Juice Energy.
Added July 01st, 2021