Episode 187: Slow-Spinning Redemption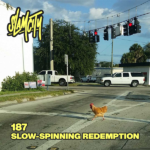 The World's First Quantimino™ Powered Podcast is recorded at Daddy Juice Energy Studio in the Beaded Curtain District and features star players Gemini Jackson, Wes Burrito, Brian McFly, and Arthur Dood. Bring a change of clothes.
Pre-show: Brian's credit, Hockey, Little Caesars.
Double X Quantimino.
School mascots: ants, echidnas, fish, Shin Godzilla.
Captain Planet and the Planeteers.
Robert the Builder.
Etiquette. How to properly eat a sandwich.
Arthur the Arbiter: Chicken wing shortage, $2 surcharge for every 5 wings.
This Is The Newz.
Taco Cabana sells to a national franchisee for $85M in cash; parent company shifts focus to Pollo Tropical.
The Internet Is Losing It Over the 'Eye of Fire' Burning in Mexican Waters.
Templeton man agrees to stop mowing his lawn naked after a SLO County sheriff visit.
Dashboard Confessional, Sparta, The Mars Volta, and Brian's Archetype Emo Girl.
Burrito's Nippon Newz.
Saitama Police chief arrested busted for stealing toilet paper.
Cops in Japan use a police box as shag shack, one goes on to have a second affair with another officer.
Please take Tokyo Olympics condoms back to your home country and use them there, organizers say.
Bukkake udon gets a new name in the U.S.A. from Marugame Udon.
Burger King Japan's Ugly Burgers go head-to-head in a battle for flavour.
"Beef Candy" blurs the line between sukiyaki and candy.
More Newz.
After a flight is delayed, then canceled, a passenger uses the emergency exit of the plane on tarmac at Charlotte airport.
'They said I don't exist. But I am here': one woman's battle to prove she isn't dead.
A Nation Conceived in Liberty Confronts Its Queasiness With the "MILF Mobile".
What I Had For Lunch.
After Party: Brian's Eurotrip.
Deepfake Sponsors: Julio Tejas, Booba Gettz The Crazy One, Daddy Juice Energy.
Added July 17th, 2021