Episode 189: The Weighted Blanket Era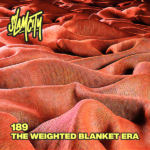 No other podcast with four dudes in a booth goes longer, faster, or harder than the World's First Quantimino™ Powered Podcast. Bring a change of clothes.
Double X Quantimino.
Burrito's Thoughts on Godzilla Singular Point.
Thom Yorke's Idioteque Dance; Radiohead's music is a metal blanket.
Santa Claus is a kaiju.
Home Improvement.
Researchers explore employee perceptions of bullshit in the workplace with the "Organizational Bullshit Perception Scale".
Brian's Couch: P-in-V sex isn't that good.
American Men Suffer a Friendship Recession.
Brian's Fingerhut.
True or False: Lauren Mayberry of Chvrches, Snoop Dogg's Daughter.
This Is The Newz.
Arizona Woman Arrested For Using Craiglist To Find A Horse To Have Sex With.
(Dental talk interlude)
Fuming mum interrupts young daughter's eulogy as fiancé, 68, lists her 'flaws'.
'I make jewellery from the teeth of dead loved ones to help people grieve'.
Wakefield kitten born without an anus saved in emergency operation.
(My Gato Needs An Assholo)
Video shows woman taped to seat after trying to open plane door on American Airlines flight.
(The No McFly List)
SF/Fantasy Bookstore Sues Neighboring Hotel, Includes Comic Book Version of Factual Allegations in Amended Complaint.
Robot Cockroach Features Engineering that Does Not Get Crushed, Moves Fast like the Insect.
(Upskirt Insect)
Burrito's Nippon Newz.
Japanese sento bath house creates a genius system to show how busy the baths are.
New Silent Theater in Tokyo lets you lounge on couches with headphones while watching movies.
English teacher arrested in Japan for smuggling cannabis oil inside hair treatment bottles.
Japan created its first law requiring permits for crossbow possession.
You can now visit Evangelion's Misato's apartment dining room in real-life Tokyo.
New Godzilla mobile game lets you raise your own Godzilla, race it against other monsters.
More Newz.
Which bottle of wine at a restaurant has the biggest markup? The answer may surprise you.
This 'Chinese Lego' Brand Takes Its Toy Space Mission VERY Seriously.
3 shot outside barber shop after argument between 2 men over who won a foot race a month ago.
An unopened Legend of Zelda game from 1987 sells for $870,000.
A Sealed Copy Of 'Super Mario 64' Has Just Sold for $1.56 Million USD.
Would You Eat This KFC Cheesy Zinger Triple Down?
What I Had For Lunch.
Deepfake Sponsors: Julio Tejas, Booba Gettz The Crazy One, Daddy Juice Energy.
Added July 30th, 2021