Episode 192: Whatever of the Year Every Year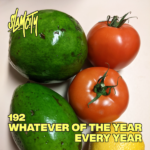 Join your part-time friends at the Thicccum Farmz Compound in the Beaded Curtain District for thought-provoking conversation, sing-alongs, odd news commentary, and What I Had For Lunch, The World's First Quantimino Powered™ Guessing Game.
Double X Quantimino.
Two-digit rule.
T.I.
Plug In and Hate – Annoying Insects: Mosquito Hawks, Cockroaches, Houseflies, Mosquitoes.
Eating bugs.
The Earth is a Big Turtle.
Double X QuantimEMO.
If you met someone that never heard music from the genre "emo" and you could only show them with one song by one artist, which song would that be?
Thursday's Full Collapse album discussion.
Taking Back Sunday – "Cute Without The 'E' (Cut From the Team)",
Dashboard Confessional – "Vindicated",
Brand New – "Play Crack the Sky",
Jimmy Eat World – "Just Watch The Fireworks",
Jimmy Eat World's Clarity album discussion.
Emo search engine.
Honorable mention: The Used – "Taste of Ink".
Double X Quantimino (continued).
Thighs at Wing Bars.
General life advice from Gemini.
Wes Burrito drops off before the Saweetie Meal discussion.
Cutting Crew – "I Just Died In Your Arms".
Minecraft.
McDonald's limited time celebrity meals discussion: The Saweetie Meal.
Wes Burrito reviews The Suicide Squad movie.
Starro.
Willem Dafoe.
Hypothetical Meta-Analysis: Your friend's dog swallows one of your AirPods Pro earbuds (retail $249/pair with charging case) because you left it in reach of the curious canine. Recover the ear bud or replace it ($89).
D!ck pizza and ice cream.
This Is The Newz.
PepsiCo and Boston Beer to create alcoholic Mountain Dew drink.
Los Angeles Air Traffic Control Warns 'Jetpack Guy Is Back'.
An Ankeny man accused of bomb threat over McDonald's dipping sauce faces a lesser charge.
Woman's terrible date goes viral after he starts flirting with a waitress.
Man has a nail removed from scrotum after shooting himself with a nail gun.
Burrito's Nippon Newz.
Starbucks releases 47 new Frappuccinos in Japan, one for every prefecture.
"Raw Pepsi," the most refreshing flavor ever, is out in Japan, but how does it taste?
Burger King unleashes the Tokyo Teriyaki Tower in Japan.
Mario isn't number one? Nintendo plumber doesn't win Super Mario series character popularity poll.
"Conbini warp" is an increasing traffic problem for businesses and authorities across Japan.
More Newz.
Best man was ordered to leave the wedding by the bride after a risky joke in speech backfires.
Pompeii's fast food joint unearthed in 2019 opens to the public.
Aerosol cans cleaned up after a semi explosion in Big Cabin.
New Penelope Cruz film poster showing leaking nipple censored online.
What I Had For Lunch.
Deepfake Sponsors: Julio Tejas, Booba Gettz The Crazy One, Thicccum Farmz.
Added August 20th, 2021