Episode 193: Future Baristas Time Capsule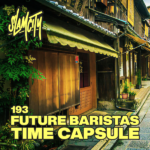 Serving you a hot cup of conversations about donuts, nu metal, odd news, and what they had for lunch, your fearless and greasy hosts bring you a show so hot that you'll feel like the old lady who was scalded by McD's coffee in the drive-thru. This is a unique collection of segments called Slam City.
Double X Quantimino.
Krispy Kreme Just Unveiled Hershey's S'mores Donuts That Are Oozing With Marshmallow.
Mentions of Duck Donuts and Voodoo Doughnut.
Double X Quantiminü: If you met someone that never heard music from the genre "nu metal" and you could only show them with one song by one artist, which song would that be?
Arthur picked "Blind" by Korn.
Brain picked "Youth of the Nation" by P.O.D.
Gemini picked "Break Stuff" by Limp Bizkit.
Burrito picked "Freak on a Leash" by Korn.
Lost Prophets discussion.
True or False?: Awkwafina.
Brian the Professional has mommy issues.
When you become a future barista, what would your signature drink on the specials menu be? Doesn't have to be a coffee drink but it's served at an indie coffee house where the cool kids congregate.
"Tubthumping" by Chumbawumba.
This Is The Newz.
A British mom makes jewelry out of her own breast milk.
First ever 'Taco Bell Defy' to open in Minnesota.
Hermit crabs are sexually attracted to plastic pollution in the ocean.
Furious Twitter debate starts over how much meat people eat off chicken wings.
Florida woman arrested after 'lewd' jail visit with inmate.
Florida man who killed his mother and toddler develops bizarre social media following: 'Too cute'.
Burrito's Nippon Newz.
New Licca-chan doll from Japan has unnervingly rapid hair growth.
Three people become first arrested in Japan for posting a 10-minute movie recap on YouTube.
Bury your face in this Pokémon's butt for the softest, soundest, and weirdest nap ever.
Beautiful cans of cake have become a viral hit in Japan.
More Newz.
Neon Genesis Evangelion comes to Blu-ray for the first time in 11-disc 'Ultimate Edition'.
A Supercomputer Just Calculated Pi to a Record 62.8 Trillion Digits. So What? — Popular Mechanics.
Nude man stabs second nude man on Seattle sidewalk.
OnlyFans is banning porn, the very thing that made it big.
Pumpkin spice-flavored ramen cup noodles coming this fall.
(Cheesecake Pie Debate)
(Resonating Mushrooms)
Little Caesars Unveils New Pizza and Calzone Hybrid Called the Crazy Calzony.
What I Had For Lunch.
Deepfake Sponsors: Julio Tejas, Booba Gettz The Crazy One, Thicccum Farmz.
Added August 30th, 2021