Episode 196: Literally Countless Stars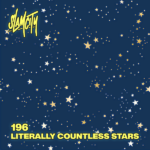 From tip to taint, Slam City covers the happenings of four dudes in a booth, odd news commentary, and food. Recorded at the Thicccum Farmz Compound in the Beaded Curtain District, your all-time favorite part-time friends bring you a triple uranium podcast that makes people laugh deep inside.
Double X Quantimino.
Thrice.
Misuse of the word "countless".
Arthur the Arbiter: Bacon Wrapped Hot Dogs and "Never, never share your ramen!".
Pronounce "incongruous".
"Damb" in the wild.
Guy in a Coma.
Fitted FUBU Shirt.
Bug chasers.
Open campus.
Quiznos.
The Wes Burrito, custom burrito.
This Is The Newz.
Colombia Navy Seizes $60 Million Worth of Cocaine Found Inside a Semi-Submersible Vessel.
Dog The Bounty Hunter says he thought he had a pass to use the N-word "like Eminem".
A giant Cinnamon Toast Crunch mascot at a Marlins game became nightmare fuel for so many MLB fans.
McDonald's customer vows to go vegan after finding 'pig nipple' in bacon roll.
The Surprisingly Popular Chocolate Bars Made With Blood.
(BNN false start, dog water).
Burrito's Nippon Newz.
Excessive dog pee is to blame for traffic light collapse, Japanese police think.
A South Korean university develops a toilet that converts poop to power and pays you for "deposits".
Evangelion LCL ice cream is real and the new taste of summer in Japan.
Domino's Pizza Japan apologizes for freaking out Londoner with fish and chips pizza, and offers free pie.
Lawson Japan serves up carbs on carbs with their new French Fry Bread.
More Newz.
A man was arrested on suspicion of stealing more than 700 pieces of women's underwear from coin laundromats.
Texas man caught trying to smuggle 350 lbs of meat across the border.
Lil Uzi Vert says fans ripped his $24 million diamond out of his forehead.
Tom DeLonge: "The secret to playing fast is masturbating. If you don't masturbate, you can't play punk rock!".
What I Had For Lunch.
Survey Monkey changes its name to Momentive.
Deepfake Sponsors: Julio Tejas, Booba Gettz The Crazy One, Thicccum Farmz.
Added September 18th, 2021