Episode 197: All My Friends Have Meaty…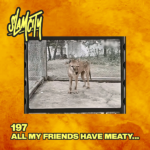 With your headphones on and pants tight, treat yourself to The World's First Quantimino™ Powered Podcast recorded at the Thicccum Farmz Compound in the Beaded Curtain District with entertaining fellas that your mother warned you about. Bring a change of clothes.
Double X Quantimino.
Burger King introduces Keep It Real Meals after banning 120 artificial ingredients.
BK celebrity meals with Nelly, LILHUDDY, and Anitta.
If you met someone who has never heard of Weezer and could only pick one song, which Weezer song would you pick?
Arthur missed a 10% Off opportunity.
Brain got ripped off by a funeral home.
If you had to give up meat or cheese for the plant-based alternative, which one would you give up?
Last man on earth.
This Is The Newz.
Rapper Dan Sur has gold chains surgically attached to his head instead of hair.
A Maryland man whose attack on a woman with a semen-filled syringe was caught on camera was sentenced to 10 years.
Lab-grown woolly mammoths could walk the Earth in six years if a geneticist's new start-up succeeds.
The Great Wall of Vagina.
Spotify's King of Sleep Music Outstreams Lady Gaga, Somehow
Taco Bell's New Taco Lover's Pass Offers 30 Days of Tacos for One Low Price
Cat-astrophe averted as fans catch falling feline using flag at American football game
The Ballet Shoe Stew of 1842
What I Had For Lunch.
Deepfake Sponsors: Julio Tejas, Booba Gettz The Crazy One, Blo-N-Go Hair Dryers.
Added September 24th, 2021