Episode 198: Strange You Never Knew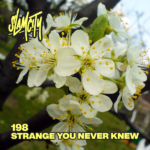 We saved you a seat at the lunch table where the conversation is a roller coaster of witty exchanges of knowledge, jokes, and laughter unmatched by everything that you've heard before. Bring a change of clothes.
Double X Quantimino.
Arthur wonders how the cohosts feel about the recent Apple zero-day and Pegasus spyware.
Get the phrase "blessed like Peter North" in the zeitgeist.
Your favorites from Wendy's one last time if the restaurant closed.
Saddest song of the 90s.
Gender bending James Bond.
Swearing Is Actually a Sign of More Intelligence – Not Less – Say Scientists.
Kuchisabishii "lonely mouth" The feeling of wanting to eat when you aren't hungry. What is your go to lonely mouth snack? Words in other languages that English can only describe in sentences.
This Is The Newz.
Polish sells parts of her BODY as NFTs including G-spot and nipples.
Jar of Elvis Presley's hair auctioned for $72,500.
Michael Jordan's used underwear up for auction.
The U.S. Treasury Is Auctioning Off an Entire JDM Project Car Collection.
One Man's Journey To Document The Strangest McDonald's In The World.
National Toy Hall of Fame 2021 Finalists Revealed.
Samuel Adams' latest potent beer is illegal in 15 states.
Men take a vehicle with 'free car' sign, find a body in the trunk.
Headstone used to make fudge was restored to a Michigan gravesite after 146 years.
Where it was for most of the time it was missing is a mystery.
Burrito's Nippon Newz.
Drunk droning arrest first of its kind in Aichi Prefecture.
Sega of America taken to court in a five million dollar lawsuit, accused of deceiving users. Arcade game Key Master is set so users can't win until they've lost enough times.
Japan is so polite even its hanko stamps bow to show respect.
23 flavors, five top recommendations for the wide world of Kikkoman soy milk.
More Newz.
Japanese grapes are some of the most expensive grapes in the world. In 2020, one bunch sold for $12,000. Just one bunch of Ruby Roman grapes sold for $12,000 at auction in 2020. That's about $400 per grape.
Attack On Titan Gets Freaky-Looking Trash And Recycling Bins.
3 people were shot at a Pennsylvania baby shower after an argument over gifts.
Mum gives birth to 'eBaby' after ordering an artificial insemination kit online.
Chinese netizens angry at Gong Li for wearing Adidas, point out that she's not a Chinese citizen.
Stern Unveils 'Godzilla'-Themed Pinball Machine.
Two men arrested for alleged illegal smuggling of Kentucky Fried Chicken.
Texas mom erupts at school board over 'anal sex' passage in middle schoolers' book.
What I Had For Lunch.
Deepfake Sponsors: Julio Tejas, Booba Gettz The Crazy One, Blo-N-Go Hair Dryers.
Added October 01st, 2021