Episode 200: Word Museum, Wax Bottles, or Pride of Lions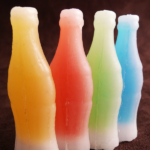 We have the greatest conversations ever had by any living beings in the universe and quadruple dare you to disagree. You won't hear any recordings better with dudes in a booth discussing the most interesting topics of the week.
Double X Quantimino.
Canned water.
Wax bottles.
What is in Burrito's 6-disc CD changer?
An old friend that Brian is not that close with asked Brian to donate his liver to him.
Maria Bamford.
Brian bombed at comedy open mic.
This Is The Newz.
McDonald's McRib is McBack to McTantalize your McTastebuds
IKEA cites 'health and safety' for hidden cameras in toilets
Burrito's Nippon Newz.
Krispy Kreme Japan creates doughnut burgers that are a meal and two desserts all in one
Who's ready to make poop cakes with this Japanese cooking gadget?
You put WHAT in your curry? Japanese netizens reveal their favorite secret ingredients
Japanese artist sells people's darkest secrets encased in concrete
Saitama man repeatedly steals food from store by making his phone say "PayPay♫"
More Newz.
Crypto CEO threatens customers after mistakenly sending them millions
Kate Moss' daughter Lila walks the ramp at Milan Fashion Week wearing her insulin pump
What I Had For Lunch.
Deepfake Sponsors: Julio Tejas, Booba Gettz The Crazy One, Thicccum Farmz.
Added October 14th, 2021