Episode 204: Sure to Make the Bodies Drop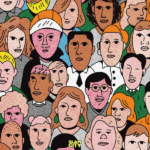 Your favorite part-time friends invite you to indulge in The World's First Quantimino™ Powered Podcast packed with thought-provoking conversations sprinkled with ideas and jokes to get you through your day. Bring a change of clothes.
Double X Quantimino.
Arthur the Arbiter Versus Veganism
Arby's wings
Brian's top 5 human fluids
Godzilla turned 67.
"I am become death."
Hedorah
Slam poetry is boring.
Franksplaining.
This Is The Newz.
Student-staff lap dances at Kentucky high school lead to disciplinary actions
Taiwanese teacher uses adult video platform Pornhub to teach mathematics
'This why my packages always late': Viral TikTok shows woman in the back of Amazon worker's truck, sparking speculation
Porn site BangBros just bid $10 million for Miami's NBA stadium to become the 'BangBros Center'
Ontario man says he found rocks in President's Choice frozen berries and was offered $300 in points if he kept quiet
Mom banned as Orange elementary school volunteer after anonymous letter reveals OnlyFans page
Elon Musk wants to start a university with a very immature name
Japan startup targets supercar users with $700,000 hoverbike
Texas woman points gun at 7-year-old for trick-or-treating outside her home
Burrito's Nippon Newz.
Class up your campsite with these Japanese sake pouches designed for the outdoors
Japanese office disaster: man pees in drink bottle of woman coworker because "he liked her"
Sapporo man attempts to rob store with lighter, goes as you'd expect
Could you eat 50 beef cutlet refill pieces? If so, this Japanese restaurant will let you eat for free
More Newz.
1,000 Andy Warhol sketches offered for $250 each — but only one is real
I'm a doctor & this is how to get rid of an unwanted erection in just 30 seconds
A COVID-19 victim's body that was supposed to be used for medical research was dissected in front of a live audience in a hotel ballroom without the family's consent
Florida teacher won't face charges for showing R-rated film
The McPlant tastes just like any McDonald's burger
Men with 'golden penis syndrome' are ruining sex and dating for women
The McRib Is Back at McDonald's. It's Also an NFT
Tom Hanks says he refused to pay $28 million to join Jeff Bezos in space
What I Had For Lunch
Deepfake Sponsors: Julio Tejas, Booba Gettz The Crazy One, Thicccum Farmz.
Added November 12th, 2021