Episode 207: Maybe Broken Furniture Got Limos Instead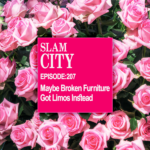 The World's First Quantimino™ Powered Podcast brings you thought-provoking conversations and world news commentary from the Thicccum Farmz Studio in the Beaded Curtain District. Your fearless and greasy hosts, Gemini Jackson, The Burrito Bandito, Brian McFly, and Arthur Dood, also share what they had for Lunch.
Double X Quantimino.
Renaming Dollar Tree as Dollar Twenty Tree with prices being over a dollar. Dollar Tree is raising its standard price point to $1.25.
A debate about the Hypebeast article "French Montana Says It Is Harder To Make It as a Rapper Than in the NBA"
Brian hates Lil Caesar's, a discussion about the top national pizza chains
Great for Radio: Would You F This Robot?
Burrito reviews Netflix's "Cowboy Bebop" better than Roger Ebert ever could.
Perpetual motion
Ms. Frizzle and the Magic School Bus
Wes Burrito's Wrapped on Spotify
Minutiae Moment brainstorm
Fanny pack for End Time
This Is The Newz.
Brass Against Vocalist Sophia Urista Urinates on Fan Onstage During "Welcome to Rockville" Set
Sold for $450m to Saudi prince, 'Salvator Mundi' deemed not painted by Leonardo
Cocaine worth $44 million found in onion rings cargo at UK border
Michigan woman pleads guilty after trying to have ex-husband killed through fake 'Rent-A-Hitman' website
Temple Police arrest woman seen in video throwing soup at restaurant employee's face
Mike Tyson Had Intense Sex Before Fights So He Wouldn't Kill His Opponents, Former Bodyguard Says
Burrito's Nippon Newz.
"Who the hell are you?" Japanese man asks bear while it's attacking him
Cat owner who sold car to pay for pet's treatment gets huge surprise from world's best buyer
Japanese police reminding drivers not to perform the illegal "Ibaraki Dash" maneuver
Starbucks unveils new Roasted Sweet Potato Frappuccino in Japan
More Newz.
FBI demands drivers in freeway cash grab return stolen money dropped by truck
A Truck Carrying $400K Worth of Jack Daniel's Overturned in Tennessee
Albatross divorce rates going up due to climate change
'It was pretty overdue': Boise library book returned 110 years after being checked out
Thailand police warn sexy crispy pancake vendor to wear a bra, maintain social distance from customers
Hiding in plain sight: How one of the country's most wanted fugitives led a quiet life in Lynnfield
He asked for a shorter jail term after cheating women for sex. Chief Justice doubles his sentence instead
New eco-friendly plastic made of SALMON SPERM is created in China
Catalytic converters stolen off 43 Riverside Unified buses
What I Had For Lunch
Deepfake Sponsors: Julio Tejas, Booba Gettz The Crazy One, Thicccum Farmz.
Added December 10th, 2021