Episode 212: Sally Philosophy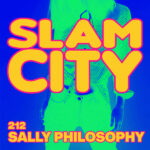 Grab your listening device and hang out with your all-time favorite part-time friends from Slam City on The World's First Quantimino™ Powered Podcast. This could be the best part of your week. Why listen to a lukewarm podcast when you have the center of the sun right here?
Double X Quantimino
Digital detox.
Fara Day, a holiday for digital detox.
Getting "Chipotle'd"
Vending machine idea
The coupon king asks a coupon question to his non-couponer bros.
Steel drums: remembering the music from Girls Gone Wild commercials
Subject Matter Expert Generalist (SMEG)
Brian's Couch: existential crises that arise in the middle of the night
Getting older
This Is The Newz.
Cat burglar: New Zealand pet steals bong, bag of white powder and lacy underwear
Mom Forces Kids To Hand Over Build-A-Bear They Made At Her Daughter's Birthday Party
Taste the TV: Japan invents lickable screen to imitate food flavours
Audi steps in to give 'Wheel of Fortune' contestant a car after controversial loss
Metairie man caught deceiving babysitters into changing his diapers arrested for second time
Finnish Man Blows Up Tesla Car Instead of Replacing Battery
'Bloodthirsty' squirrel attacks 18 people in Welsh village
UPS driver kidnapped, packages stolen in brazen Atlanta heist
Myanmar model-actor Paing Takhon named world's 'Most Handsome Face,' sentenced to jail in same week
What I Had For Lunch
What Gemini and Arthur Had For Dinner Without Brian and Burrito
Deepfake Sponsors: Julio Tejas, Booba Gettz The Crazy One, Blo-N-Go Hair Dryers.
Audio Editor: Scotty Sanders
Assistant Producer: Jaymark Balenciaga
Added January 14th, 2022