Episode 213: High Heat, Baby!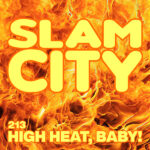 Your fearless and greasy hosts bring a fun-filled round of DXQ, odd news commentary, BNN, and What I Had For Lunch on your favorite radio show.
Double X Quantimino
Burrito's Nickelbox – "Even Flow" by Pearl Jam and "The One I Love" by REM
Wedgies
Brian asks for dog advice
This Is The Newz
Dad saddled with $20,000 credit card bill after daughter's in-game spending spree on Genshin Impact
Bank hands out £130m in Christmas blunder
90 Day Fiance star selling farts in a jar hospitalised
San Antonio's Pabst Blue Ribbon tweets New Year's advice for sober followers: 'Try eating ass!'
Woman found smuggling spider monkeys in duffel bag across U.S. border
Little Caesars' Hot-N-Ready pizza no longer costs $5
North Korea claims Kim Jong Un's dad invented the burrito
Burrito's Nippon News
This Robo Chef will make you perfect fried rice without any need to lift a heavy wok
Ramen tea? Unusual drink is hot in more than ways than one
Bathe in the soothing golden waters of the Bathtime Manneken Pis yellow water gun kit
What I Had For Lunch
Deepfake Sponsors: Julio Tejas, Booba Gettz The Crazy One, Thicccum Farmz.
Added January 24th, 2022