Episode 214: Paper Crowns and Barnacles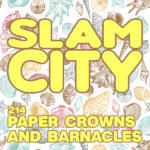 Your favorite part-time friends take you on a roller coaster ride on The World's First Quantimino™ Powered Podcast with random discussion topics, news commentary, and food. Bring a change of clothes.
Double X Quantimino
What if you could approve or deny gravity? OR Is gravity clumsy or just me?
Jason Derulo Attacks Men After Being Called Usher
Melania or Throat Goat Reagan? no politics, just shear sexual conjecture
MFK with Pelosi, Boebert, and AOC
This Is The Newz
Meet the Man Who Married His Sex Doll
Fish fall from the sky during rainstorm in eastern Texas
Melania Trump to auction white hat and other items for $250,000 minimum bid
What It's Like to Go Through Life As a Really Beautiful Woman
Soft toy that nibbles to relieve stress is unveiled at tech convention
Tenn. lawmaker apologizes after arguing with ref, ejection at HS basketball game
KFC to launch plant-based fried chicken made with Beyond Meat nationwide
What I Had For Lunch
Deepfake Sponsors: Julio Tejas, Booba Gettz The Crazy One, Blo-N-Go Hair Dryers
Added January 28th, 2022