Episode 215: The Feeling That It's All a Lot of Oysters but No Pearls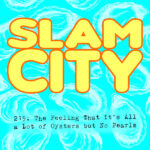 There's reason to believe maybe this year is better than the last. It's one more day up in the canyons, and it's one more night in Slam City. If you think you might come to the Beaded Curtain District, we think you should. Yeeahhh!
Double X Quantimino
Dog barking update: The Showdown
You're demoing a new speaker system. What's your go-to song?
How would your young adult self react if Gayle's ABCDEFU was written about you?
Mosaic Massacre: Man uses AI to "destroy" censor mosaics in Japanese adult videos
Pocket Tupperware
Gemini went to Las Vegas
Checkout error, cashier's fault
This Is The Newz
Las Vegas women accused of hiding stolen cash, Rolex in genitals
Two Florida Women Attack Man With Glitter, Face Felony Charges
Young Scandinavians Are Sticking Nicotine Pouches Up Their A$$es
Doctor who branded his initials on patients' livers no longer allowed to practice medicine
Former preschool teacher who now makes a living as a BBW model on OnlyFans.
Pensioner murdered with crossbow was 'taken advantage of' by 'conman'
Burrito's Nippon News
New "boss' treat" vending machines in Japan give out free drinks if you use them with a coworker
Burger King adds Clown Fries and craft buns soaked in butter to menu in Japan
The top 30 foods that go best with white rice, according to Japanese netizens
What I Had For Lunch
Deepfake Sponsors: Julio Tejas, Booba Gettz The Crazy One, Thicccum Farmz
Added February 06th, 2022