Episode 216: Corpulent Pancitas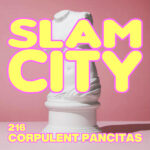 These are the sounds of four dudes in a booth, a British voice-over lady, and an Italian pop-punk band joining together at Daddy Juice Energy Studio and creating an episode of The World's First Quantimino™ Powered Podcast. You're cordially invited to hear possibly the best entertainment that you'll have all week.
Double X Quantimino
When We Were Young Festival
Bono Admits He's "So Embarrassed" by U2's Music
Gemini's Nickelbox: U2
AVN award nominees for clever titles
Arthur's fax "joke"
Gemini fashionista: slacks that are actually sweat pants
Arthur the Arbiter: Changing menu prices
This Is The Newz
Logan Paul Paid $3.5 Million for Rare Pokémon Cards. They Might Be Fake.
Israeli woman sues after unwittingly inspiring a sex doll
Model Says Drake Puts Hot Sauce In Condoms To Kill Sperm And Not Get Trapped
Japanese woman gives up baby, sues sperm donor for $3 million after learning he lied
Michigan man wins $402,063 lottery jackpot on 71st birthday
Burrito's Nippon News
Elevator button factory tour in Japan knows EXACTLY what kids (and kids at heart) want to do
Kyoto police using targeted YouTube ads to warn would-be voyeurs
Burger King straight-up serves beef patties on their own in Japan for a limited time
What I Had For Lunch
Prone bone
Deepfake Sponsors: Julio Tejas, Booba Gettz The Crazy One, Thicccum Farmz
Added February 13th, 2022