Episode 218: Stay Wrecked & Jealous For This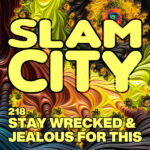 When everything you'll get is everything that you've wanted. This all was only wishful thinking. You're such a sucker for sweet talkers. You just need to keep us in mind as something larger than life.
Double X Quantimino
The end of a porn scene ending that bothered Gemini
Sh!ttiest song lyric
Burrito's Nickelbox – Red Hot Chili Peppers and Our Lady Peace
This Is The Newz
Lion loses testicle after lionesses attack him for stealing their food
Man who allegedly stole $8,000 guitar by hiding it in his pants sought by police north of Toronto
Schoolboy loses both nipples after dare to freeze them with two cans of Lynx
24,000-year-old animal found alive, well and ready to reproduce
Woman reveals Hinge date requested $4 after second meetup fell through
Meet Wallace the first mule to win the British dressage competition
'I do it for free': Prolific sperm donor gives his seed away using Facebook
Burrito's Nippon News
Hyogo man arrested for stalking woman through her bank account
Arson attempt by passenger on Japan's Shinkansen shuts down bullet train line
Why work from home when you can work from a Japanese cat town?
What I Had For Lunch
After Party
DDeepfake Sponsors: Julio Tejas, Booba Gettz The Crazy One, Blo-N-Go Hair Dryers
Added February 25th, 2022