Episode 224: Raging Bile Duct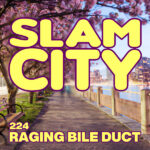 Gemini, Brian, and Arthur travel through the Quantimino to the Beaded Curtain District to record another intergalactic episode. Bring a change of clothes.
Double X Quantimino
Brian went on a ski trip and saw a blind woman on the plane.
Sharing the road with shitty drivers crossing the solid, white line
Arthur the Arbiter has no shame eating two Whoppers in one sitting.
Arthur the Arbiter pauses on McD's free Large Fries.
Speaking of healthier eating, Arthur asks Gemini and Brian how to hack a buffet sold per pound.
File Formats
Bruce Springsteen
This Is The Newz
Winter Olympics: Finnish cross-country skier suffers frozen penis in 50km race
Woman quits job to breastfeed boyfriend full time
Tennessee man accused of hitting wife with loaf of bread during dispute
Husband slammed for upgrading to business class on flight and leaving wife in economy
What I Had For Lunch
Deepfake Sponsors: Julio Tejas, Booba Gettz The Crazy One, Blo-N-Go Hair Dryers
Added April 09th, 2022