Episode 230: Flavour of the Week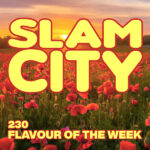 Listen to a conversation taped at Daddy Juice Energy Studio in the Beaded Curtain District. Discover a shared experience that you've been craving all this time.
Double X Quantimino
Slam City Reviews Cleveland.com's "The 100 greatest pop punk songs of all time", Part 1: 100 through 75
Counting down the 100 best songs in the genre's history, from Ramones and Green Day to Blink-182 and Paramore.
BNN DXQ: Tokyo police admit to losing 38 citizens' personal data… that was stored on floppy disks
Data for the 2021 investigation was provided in a format most people stopped using more than a decade ago.
This Is The Newz
Brazilian Woman Hospitalized with Trapped Gas as She Couldn't Fart in Front of Partner
Woman's 'UTI' was actually glass tumbler lodged in bladder for 4 years
Police say Burger King employee shot at customer who threw mayonnaise at her
Russian fast-food chain replacing McDonald's reveals near-identical branding
Burrito's Nippon Newz
Japan is opening a video gaming/esports high school, and the idea isn't as crazy as it sounds
Japanese gamer gear company's gaming massager wants to keep your fingers, palms in fighting shape
Get huge discounts on Japanese hotels… provided you're a space alien (or claim to be one)
What I Had For Lunch
Deepfake Sponsors: Julio Tejas, Booba Gettz The Crazy One, Thicccum Farmz
Added May 20th, 2022