Episode 231: Cellophane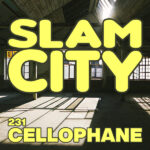 Keep your ears warm and your pants tight with the witty banter and odd news commentary from The World's First Quantimino™ Powered Podcast.
Double X Quantimino
Slam City Reviews Cleveland.com's "The 100 greatest pop punk songs of all time", Part 2: 74 through 51
Counting down the 100 best songs in the genre's history, from Ramones Green Day to Blink-182 and Paramore.
BNN DXQ: Dating service in a vending machine? Burrito explains and asks Arthur to Arbit some curious, and potentially nefarious, pricing.
Ref: There's a Tokyo vending machine that sells love in a can (or a shot at it)
And here we were thinking cans of hot green tea were amazing.
This Is The Newz
I refused to fart in front of my boyfriend & ended up in hospital having surgery
Paralysed man communicates first words in months using brain implant: 'I want a beer'
British Woman Breaks World Record for Most Chicken McNuggets Eaten in One Minute
The future of fast food is a 12ft-square robot vending machine
Burrito's Nippon Newz
Japan's best-selling beer is changing its recipe for the first time in 35 years
Yep, that's a whole ice cream cone as a ramen topping, as this restaurant in Japan offers
Free anti-embarrassment bags to be handed out at Comiket
What I Had For Lunch
Wes Burrito has a Quarter Pounder with Cheese for the first time in a long time.
Deepfake Sponsors: Julio Tejas, Booba Gettz The Crazy One, Thicccum Farmz
Added May 28th, 2022