Episode 238: Where We're Going, We Don't Need Pants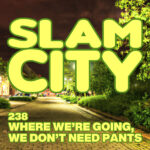 The World's First Quantimino™ Powered Podcast is recorded at Daddy Juice Energy Studio in the Beaded Curtain District and features star players Gemini Jackson, Wes Burrito, Brian McFly, and Arthur Dood. Bring a change of clothes.
Double X Quantimino
Arthur needs more schooling on this dining out/tipping game, or maybe he just needs a refresher.
Burrito's Nickelbox: rap-rock that's not Limp Bizkit or Kid Rock
BNN Preview: Anime waifus, you know 'em, we love 'em! Especially the cartoon physics that govern the gravity defying quivering titties, the jiggling jugs, the booby bounce! Burrito motorboats his way up the timestream to find the source of all this titillating movement.
Ref: When was the first anime breast bounce? Japanese Twitter debates
Famous manga artist claims famous character designer was the perky pioneer, but not everyone is convinced.
This Is The Newz
Taco Bell is bringing back the Mexican Pizza
DJ Khaled's Another Wing Unveils Plant-Based Wings
Carjacker beats up 72-year-old, takes car, only to die in crash
Florida bride and caterer charged with lacing wedding food with cannabis
Scientists Want to Probe Uranus With a New Spacecraft
Burrito's Nippon Newz
Hokkaido man found naked in laundromat in middle of the night
Kyoto City official arrested for bribery with old-timey gold coin
"I'll draw one animal for every retweet!" Japanese artist now has to draw 22,000 animals
What I Had For Lunch
Deepfake Sponsors: Julio Tejas, Booba Gettz The Crazy One, Thicccum Farmz
Added July 17th, 2022