Episode 243: Standing Outside a Broken Phone Booth With My Duck in My Hand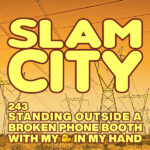 Join your part-time friends at Daddy Juice Energy Studio in the Beaded Curtain District for thought-provoking conversation, odd news commentary, and What I Had For Lunch.
Double X Quantimino
Continental Breakfast
If you rolled up to this Waffle House, what would you make? What's your signature Waffle House meal?
What were Gemini and Brian were doing in a JOANN fabric store?
If you and your army were going to conquer Uranus, how would you do it?
Your two toppings on a custom slice of pizza
"Let's give them something to taco bout"
This Is The Newz
High School junior prom ends early after students yell racial slur while song was playing
Shoppers 'rather concerned' after spotting cheap butt plugs on Poundland shelves
Leader of feces-eating cult arrested after 11 dead bodies discovered during raid
Payouts paused after host calls wrong Mega Millions Mega Ball number
Madonna: 'A lot of thought' went into fully nude NFTs of her giving birth to centipedes
'I don't think I did anything wrong,' woman who jumped into spider monkey enclosure at El Paso Zoo speaks out
Brian's Incel Corner
Calling a man bald is sexual harassment, employment tribunal rules
News headline – 'Having sex with women is gay': White nationalist praises involuntary celibacy
Burrito's Nippon Newz
Japanese supermarket entrusts customers with unusual discount sticker system
Japan's supply of Zima runs dry, online resellers take over and jack up prices
Japanese gyaru-turned-mom is more concerned with making her son a gentleman than a scholar
What I Had For Lunch
Deepfake Sponsors: Julio Tejas, Booba Gettz The Crazy One, Thicccum Farmz
Added August 22nd, 2022