Episode 247: Coherent Dylan and the Department of Billionaires | Lemon/Lime | A Melange of Death | Sweater Pizza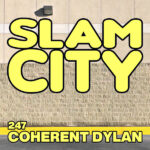 Nobody pays to have a garbanzo bean on their face.
"Theme Song to Burrito's Nippon Newz" (0:19) at 49:20
Double X Quantimino
Hypothetical Meta-analysis: Accounting error: A check that you already received the money for
What songs have been stuck in your head for years?
Fugue state
Waking up from a coma and everything tastes like 7-Up
Brian: Can someone explain to me "the girlfriend experience"?
Brian matches with a woman from Mexico on Tinder
This Is The Newz
Mona Lisa attacked with cake by 'man dressed as old lady in wheelchair'
Travis Kelce's Girlfriend Kayla Nicole Allegedly Broke Up With Him Because He Kept Making Her Pay Half of Everything In The Five Years They Were Dating
15,000 pounds of hot dog filler 'catapults' onto roadway following crash
Balenciaga's 'full destroyed' sneakers listed for $1,850
Taco Bell is running out of Mexican Pizza
Monkey Chips
Burrito's Nippon Newz
Japanese man pays nearly $16,000 for life-size dog costume to fulfill his dream of transforming into an animal
Save time AND water by turning your shower into a bath with this nifty Japanese gadget
Electric chopsticks that make low-salt food taste salty developed by Meiji University
What I Had For Lunch
Deepfake Sponsors: Julio Tejas, Booba Gettz The Crazy One, Thicccum Farmz
Added September 10th, 2022