Episode 249: Impersonating An Apartment Complex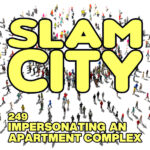 With your headphones on and pants tight, treat yourself to The World's First Quantimino™ Powered Podcast recorded at the Daddy Juice Energy Studio in the Beaded Curtain District with entertaining fellas that your mother warned you about. Bring a change of clothes.
Double X Quantimino
The Dog-a (Dog Saga) comes to an end soon. Will Brian choose (re)vengeance or forgiveness?
Brainstorm sesh: Slam City album cover
Dairy Queen
DXQ Outro
This Is The Newz
Man in Texas smashes ancient museum artifacts worth millions
Arrested Arizona 'Penis Man' claims there are more Penis Men like him
Florida man and woman crash into FedEx truck during sex act
Employees at Sonic Drive-In call police to report python in kitchen
Burrito's Nippon Newz
Set of 4,368 train tickets goes on sale to commemorate Japan Railways 150th anniversary
We test out the portable shower backpack Amazon recommended to us (which also only has two stars)
Blind fighters only at Street Fighter V e-sports tournament to be held in Tokyo, streamed online
Matchbox Twenty
What I Had For Lunch
Deepfake Sponsors: Julio Tejas, Booba Gettz The Crazy One, Thicccum Farmz
Added September 19th, 2022