Episode 261: Locusts of Ctrl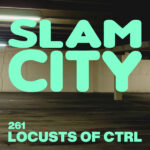 From tip to taint, Slam City covers the happenings of dudes in a booth, odd news, lunch, and learning new things. Recorded at Daddy Juice Energy Studio in the Beaded Curtain District, your all-time favorite part-time friends bring you a triple uranium podcast designed to help you unwind.
Double X Quantimino
Hypothetical Meta Analysis: "Successful people without any malice will credit their success largely to their own hard work and ingenuity and therefore contribute less to maintaining the very circumstances that made that success possible in the first place."
Locus of Control
Arthur the Arbiter: Another Arthur places an online pickup order at Whataburger around the same time this Arthur does.
P.O. Broad
Found Objects
Tipsimping
This Is The Newz
This Grandma's Dying Wish Was a Giant Dick on Her Grave
Nudist Shoots Exhibitionist Dead for Etiquette Breach
100-pound sailfish stabs woman, 73, on fishing trip in Florida
Chess robot grabs and breaks finger of seven-year-old opponent
Dead Spiders Work as 'Necrobotic' Grippers to Pick Up Heavier Objects
Nick Cannon Welcomes Baby No. 8, His First with Model Bre Tiesi: 'Beautiful Miracle'
Burrito's Nippon News
1,600 empty seats at major Japanese gymnastics competition reserved by single unpaying person
Miyazaki City mistakenly sends over 2M yen in meat to 140 people, instructs them to eat it anyway
Train conductor left behind by own train in Japanese countryside, proves he didn't really need it
What I Had For Lunch
Deepfake Sponsors: Julio Tejas, Booba Gettz The Crazy One, Thicccum Farmz
Added November 24th, 2022