Episode 265: Panic Mixie Dream Boats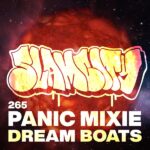 Manic pixie dream boats young and old, stuff your ear holes with a mixtape from Felonious Cheeseburger.
Double X Quantimino
One of Mike's Minions called Arthur "boss"
Is Jersey Mike's sandwiches really "a sub above"?
Brian McFly is not a manic pixie dream boy boat.
Idris won't be the next 007.
This Is The Newz
Top scientist admits 'space telescope image' was actually a slice of chorizo
FDA approves first condom specifically intended for anal sex
Semi-truck full of Bud Light overturns on Kentucky highway spilling cans everywhere
Truck loses porta-potties on highway; several cars damaged
Reusable Toilet Cloth Viral Trend Is Making People Cringe
Man Hid Cherry Pies Under Women's Car Tires To See Them Bend Over
Ex-Ohio court mediator arrested; allegedly sent feces to GOP
Constipated bloke had water bottle up his bum but was too scared to tell wife
Couple charged for allegedly having sex on Giant Wheel at Cedar Point
GA murder suspect arrested after calling the police over cold fries
Man accused of shooting NYC McDonald's worker over cold fries slapped with 2020 murder charge
Wendy's worker charged with murder after punching customer in Prescott Valley
Boyfriend Jailed After Felonious Cheeseburger Battery At Burger King
Chicken wing prices are cheaper now than they were before the pandemic
Deepfake Sponsors: Julio Tejas, Booba Gettz The Crazy One, Thicccum Farmz
Added December 26th, 2022