Episode 275: Northeast Glisan Street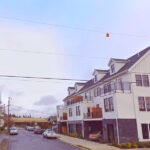 On a relaxing October morning, Gemini, Brian, Burrito, and Arthur, with their special guests Kit and Ignacio, recorded this episode of Slam City with their phones in an Airbnb near Northeast Glisan Street in Portland, Oregon. You're a fly on the wall.
Double X Quantimino
Throwback music
The Slam City "time travel" trope
A lyrical discussion: "Four of fish and finger pies" – What would you do for a finger pie?
Headline: I used a dating app to meet millionaires. I got to travel the world, get fancy gifts, and learn a lot from my relationships.
BNN on DXQ: Do most Japanese Gen Z music lovers skip the guitar solo in songs? Survey finds out
This Is The Newz
SJFD investigates video of bikini-clad woman exiting fire truck
What Would You Pay for an Empty Chip Bag?
Doctor Removes 23 Forgotten Contact Lenses From Patient's Eye
Thumbs-up emoji branded 'inappropriate' by Gen-Z – but older generations stand by it
Burrrito's Nippon Newz
Vending machine with in-flight meals becomes a sell-out hit at Haneda Airport in Japan
Akiba Dental Clinic: The Akihabara dentist where a moe maid in cosplay cleans your teeth
Robot finger covered in living skin developed by University of Tokyo
Hosts: Gemini Jackson, Brian McFly, The Burrito Bandito, Arthur Dood
Special Guests: Kit Hunter, Ignacio Bullfrog
Audio Editor: Jaymark
Mixing Assistant: Undogmatic
Deepfake Sponsors: Julio Tejas, Booba Gettz The Crazy One, Thicccum Farmz
Added March 10th, 2023