Episode 279: Skipping Rocks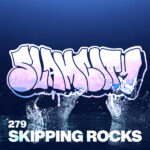 Gemini Jackson, Brian McFly, The Burrito Bandito, and Arthur Dood share an hour of conversation and laughter covering assorted topics for your listening pleasure. Bring a change of clothes.
Double X Quantimino
Hypothetical Meta-Analysis – Daddy Juice Energy scored us a ticket to an Anna Delvey Dinner Party and only one of us can go. Art selected Brian.
Feed the AI, a rapid fire deep dive segment – Memory maps, business hours, conscious time, and fuel consumption
Hypothetical Meta-Analysis – One of us allegedly gropes another podcaster that made a headline.
Have we been playing Super Mario Bros wrong our whole lives? None of us.
This Is The Newz
Sperm counts worldwide are falling even faster than we thought
'Temporary vasectomy' trialed in Melbourne: Sperm blocker a world first
Woman feels 'dehumanized' as she claims she was kicked off plane over 10kg boobs
TikTok artist entombs bag of Cheetos in 3,000-pound sarcophagus
HelloFresh accused of using coconut milk obtained from monkey labor
Raising Cane's Chicken Fingers sues Indiana shopping center after being told it can't sell chicken fingers
Man who found £4 million cheque to Haribo rewarded with gummies
Your favorite songs reveal your attachment style: New psychology research
Wait, Are We Really Supposed to Tip 25% Everywhere Now?
Woman Cops To Meat Beating At Ohio Walmart
Burrito's Nippon Newz
Japan's first-ever wanko soba conveyor belt restaurant opens in Tokyo
Tokyo man arrested for putting brother's skull out for recycling collection
Gifu man arrested for entering other person's home and hanging women's underwear to dry
Deepfake Sponsors: Julio Tejas, Booba Gettz The Crazy One, Thicccum Farmz
Slam City Radio 24/7 x https://slamcity.co/scr247/
Added April 19th, 2023