Episode 280: Under The Influence of Brisket and Pasghetti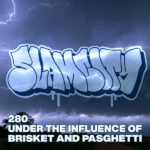 Gemini, Brian, Burrito, and Arthur discuss maid cafés, bot bigotry, a busy intersection, "Self Esteem" by The Offspring, tipping, ordering at Starbucks, odds news, and Nippon news.
Double X Quantimino
Slam City Maid Café Menu & Daily Specials
Bot bigotry
Dr Smahtman explains a cognitive psych study about tools
Plug In & Hate, Part 1: Stop behind the white line
Deep dive on the lyrics to "Self Esteem" by The Offspring
Disney Files Patent for Roller Coaster that Jumps Track
We ain't playin' with this campaign. People are tipping less in this economy, but why are they tipping at all?
Plug In & Hate, Part 2: A woman went viral on TikTok after sharing how she was late to her doctor's appointment because a customer ordered 38 drinks at Starbucks.
This Is The Newz
Man gets jump-rope stuck in bladder after shoving it into his penis
Hot dog vendor stabbed in alleged turf-war with another hot dog vendor outside Petco Park
Ex-ExxonMobil employee arrested after 'vault' of upskirt photos allegedly discovered
Alameda Co. deputy arrested on suspicion of DUI after totaling 'BBQ' truck
Houston woman has the world's largest feet
Hacked digital billboard in Brisbane displays pornography for several minutes
Someone paid over $200,000 for the Birkenstocks that Steve Jobs wore in the garage where he founded Apple
Evacuation orders lifted after hemp plant fire in Grass Valley
Burrito's Nippon Newz
Japanese company uses video game-style hit point badges to help employees know who need a hand
Saitama man arrested for making 9,313 false reservations on luxury trains
AirTag planted on Aichi Prefectural Police car, by someone who doesn't understand cars well
Deepfake Sponsors: Julio Tejas, Booba Gettz The Crazy One, Thicccum Farmz
Added April 28th, 2023