Episode 281: Full Lizard feat. Jonathan the Tortoise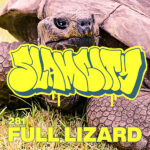 Gemini, Burrito, Brian, and Arthur drop some conversation and chuckles about massage therapy, rifle cleaning, hirsutism, ill-equipped restrooms, escaping a time loop, Ketchup Karen, Jonathan the Tortoise, funny T-shirt ideas, train rides, more odd news, and The Three Rules.
Double X Quantimino
Massage therapy from dudes
How to clean your rifle
Hairy limbs
Hypothetical Meta Analysis – An ill-equipped public restroom
Stuck in a time loop, 3.2 seconds, Palm Springs
Your face is like a fingerprint, and Lensa AI is nefarious.
Window seat or aisle?
This Is The Newz
'Didn't she ask for extra ketchup? Why is she mad?': McDonald's 'Ketchup Karen' throws fit over amount of ketchup on her burger
Poker player with 'boobs out' promises to 'nip that behavior in the bud'
Pig hogs bed in Georgia woman's home: 'She steals my pillow'
Wordle is 2022's top Google search term, above both Ukraine and the queen
Home Depot workers track down owner of dropped $700 cash
Jonathan the tortoise, oldest living land creature, celebrates 190th birthday
Book returned to Australian school library was nearly 120 years overdue
I'm so pretty, men treat me like a trophy and women scowl at me
Hooters influencer Ali Spice dead at 21 in car crash
Burrito's Nippon Newz
Cases of people getting unwanted crabs skyrocketing in Japan, salmon too
Japan's random-destination roll-the-die train tickets: An amazingly cheap way to go… somewhere
Over half a million yen in cash comes floating down river in Toyama
The Three Rules
Rule #1: Overcomplicate Things.
Rule #2: Go Fvck Myself.
Rule #3: n + 1
Deepfake Sponsors: Julio Tejas, Booba Gettz The Crazy One, Thicccum Farmz
Added May 08th, 2023