Episode 286: Rabbit Season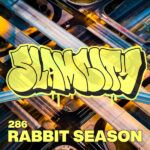 Midnight snacks, palindromes, 27 years at Burger King, Get 1 Free deals, 400 pushups, pay yourself first, Papa Johns, Evo Moment #37, Corn Flakes, ramen's history, Newz, BNN, and maybe more than most podcast listeners can handle.
Double X Quantimino
Midnight snacks
Palindromes
Working at Burger King for 27 years with perfect attendance
Buy 3, Get 1 Free
400 pushups for punishment
Bad money habits – pay yourself first with at least 10% into savings?
Was the apostrophe so wet that it fell off!?
Evo Moment #37
Kellogg's Corn Flakes were created as an 'anti-masturbatory morning meal'?
Reloading a location-specific payment card
Arthur's revised thoughts on ramen
This Is The Newz
Recent rains cause Whiskeytown Lake to spill into the Glory Hole
Man accused of shooting other man after oral sex meetup in Florida City
Billionaire Larry Ellison got a speeding ticket on an island he owns while driving a Corvette and told the cop there's 'no excuse'
FEMA fires group for nonsensical Alaska Native translations
Amazon delivery driver's fingertip is left in letterbox after accident
Man arrested for having sex with cow, sent to psychiatrist
"Boy Meets World's" William Daniels Was In An "Open Marriage" With His Wife Before One Of His Affairs "Devastated" Her
Southbound I-71 reopens after beer truck overturns
Girl, 13, leads Nebraska troopers on 100 mph chase with boy, 11, in the passenger seat
Burrito's Nippon Newz
69-year-old Tokyo man arrested for driving without a license for over 50 years
Monkeys have attacked more than 60 people in three weeks in one Japanese town
Krispy Kreme releases tit doughnuts in Japan
Deepfake Sponsors: Julio Tejas, Booba Gettz The Crazy One, Thicccum Farmz
Added June 12th, 2023