Episode 287: Infinity Monkeys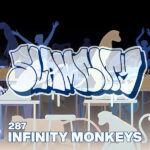 Experiencing music, ChatGPT, an infinite amount of monkeys, Spectrum, time machine, okay, bathing with bottled water, butt bumping on Wheel, Pokemon Yellow, a hot triple amputee model, Amouranth, toilet-shaped plants, Viagra, skipping commercials, the world's greatest stereo system, stolen Rolex, BNN follow-up, Starbucks creampie
Double X Quantimino
Best experience: listening to the album, listening to a live recording, or attending a live performance?
ChatGPT
Art the Arbiter – Arthur prefers to not have to wipe his ass with cold hard cash. Charter Communications (Spectrum) are crooks.
Time travel never gets old. 🐱 Time Machine
Minutiae Moment – O.K., okay?
Gemini Jackson Does The Math
Pat Sajak's Epic Reaction After a 'Wheel of Fortune' Contestant "Twerked" on Him
This Is The Newz
An original, sealed copy of Pokemon Yellow worth almost $10,500 has reportedly been ruined by US customs
I'm a triple amputee and a hot model — nothing holds me back
The Surprising Reason Twitch Star Amouranth Hasn't Ditched NSFW Content (Yet)
These Toilet-Shaped Carnivorous Plants Thrive By Eating Poop
Viagra users are 25% less likely to suffer early death
Sony patent would have you yell at your TV to skip commercials
The world's greatest stereo system is inside a Virginia home
Burrito's Nippon Newz
Saitama man's 7M-yen Rolex stolen after leaving it alone with "potential buyer" for two minutes
Man who took entire town's COVID-19 money now out of jail and turning life around
Starbucks Japan's new cream pie's looks are freaking people out
Deepfake Sponsors: Julio Tejas, Booba Gettz The Crazy One, Thicccum Farmz
Added June 21st, 2023