Episode 289: Cute Guys Don't Tip Open Source Monsters Fighting Nazis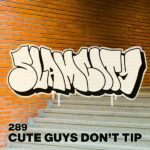 The Burrito Bandito goes deep about DCU, hypothetically your mom on OnlyFans, how many times you can wear clothes without washing, hit and run, micro-stress, Frito pies, Newz, BNN, and the Take Notes after party.
Double X Quantimino
DC characters that The Burrito Bandito really wants to see in the DCU
Hypothetical Meta Analysis: Your mom on OnlyFans
How many times can you wear pajamas, jeans, and other clothes without washing them?
Hit and Run
Micro-stress
Are Fritos the last bag of chips?
This Is The Newz
Half a billion dollars worth of cocaine found adrift in Pacific Ocean
Altoona home invader kidnapped man, claimed 'I'm Batman.'
Stowaway frog triggers alarm during screening at Pennsylvania airport
Couple returns home from trip to find pair impersonated them, sold house
11-year-old boy charged with sharing marijuana edibles at Georgia school
Hooters waitress shares 'adjustment trick' to get more money from 'cute guys'
Hughson Church demands answers after sewage water, cement mistakenly pumped into the property
Bolivar's new roadside attraction? Glass shop houses 11-foot, 150-pound functioning bong
Crews working to clean up bottles of Jack Daniel's after tractor-trailer crash
Zookeepers Say They've Solved the Mystery of How a Gibbon Got Pregnant by Herself
Burrito's Nippon Newz
Japanese scientists succeed at causing depression in monkeys using magnetic stimulation
Rice Pizza?! Pizza Hut creates a new base for customers in Japan
Train driver's locked tablet with forgotten password leads to big delay on Fukushima line
Deepfake Sponsors: Julio Tejas, Booba Gettz The Crazy One, Thicccum Farmz
Added July 10th, 2023