Episode 290: Custard (feat. Jeremiah Ukponrefe)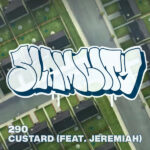 Author and comedian Jeremiah Ukponrefe visits Slam City.
Double X Quantimino
In this context, what's your definition of "anything"?: "I've been charged with 13 felonies in my life and only convicted of 5. So in my mind, I can get away with anything."
Arthur the Arbiter – Himalayan pink salt
Taking surveys
Metroid Prime
Always Flexfoam
Guestimation Unknown – Filling an Olympic swimming pool
One song that you can listen to again for the first time
Phubbing
This Is The Newz
Michigan teacher plants bomb threat note to get day off, police say
Pizza delivery gives squirrel opportunity to invade Louisiana house
Scientists Will Pay You Over $4,000 to Chug a Diarrhea Drink
Drug-free relief from chronic constipation may come from a new vibrating pill
'Groundbreaking' male contraceptive pill 'disables' sperm and works in minutes
Toxic fumes escape after truck overturns in Tucson, Arizona
Bloomington man reportedly set own car on fire to stop people from stealing from it
Cape Coral man cracks a beer open during traffic stop
Man caught in stolen car while driving back to crime scene
Burrito's Nippon Newz
Sushi chef drops knives on the train, causes panic and delays
Tiny travel guides are our latest Japanese gacha capsule toy obsession
Burger King Japan guarantees new chicken sandwich is bigger than your phone with weird promotion
Jeremiah Ukponrefe is the author of Hive, a dystopian sci-fi novel.
Get a free preview of Hive at jeremiahu.com.
Deepfake Sponsors: Julio Tejas, Booba Gettz The Crazy One, Thicccum Farmz
Added July 24th, 2023