Episode 291: King Nerd Pudding Hounds with Hubris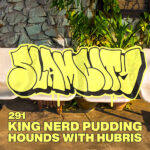 A $17 cookie, blink-182's Apple Shampoo lyrics, Liver Guy, bull semen, magazine covers, feeding a family on a $3k/week salary, Roget's Thesaurus, dental hygienists, blackout rage gallons, free lunches, Walmart versus Target, Never Have I Ever, accidental incest, a 2,000-year-old sex toy, a 1998 Ford Escort, missing biscuits, a kissing device, a giant squid statue, spreadable coffee, and more odd news stories.
Double X Quantimino
A $17 Chocolate Chip Cookie
Dude Ranch, Apple Shampoo, Dance Hall Crashers
Liver Guy Follow-up Story
Bull semen – She tells you to take a shot right before coitus.
Your fake magazine cover
Plug In & Hate – A mother of two explains how she feeds her toddlers with her $3k/week salary.
A truck loaded with thousands of copies of Roget's Thesaurus crashed yesterday losing its entire load. Witnesses were stunned, startled, aghast, taken aback, stupefied, confused, shocked, rattled, paralyzed, dazed, bewildered, mixed up, surprised, awed, dumbfounded, nonplussed, flabbergasted, astounded, amazed, confounded, astonished, overwhelmed, horrified, numbed, speechless, and perplexed.
"What does that make you?"
Borgs – blackout rage gallons
Arthur the Freegan
Walmart
Never Have I Ever – Retro Edition
This Is The Newz
Australia worried 'prolific' sperm donors could lead to 'accidental incest'
This Well-Worn Wooden Object Was Unearthed In A Roman Fort — And Scientists Believe It's A 2,000-Year-Old Sex Toy
Man wins $10K lottery prize, but state instead claims he owes them money
Woman goes viral for buying a 1998 Ford Escort for $289 a month for the next 84 months
Georgia woman crashes SUV into Popeyes after her order was missing biscuits
'They missed a whole bomb in my bag,' woman says at FLL, landing her in jail
Spirit Airlines flight makes emergency landing after battery fire
An airline provided a single banana as the in-flight 'meal' for one vegan passenger
This Chinese kissing device lets you smooch over the internet
Burrito's Nippon Newz
Japanese town that spent 25 million yen in COVID money on giant squid statue says it paid off big
Japanese monkey-hunting team shoots woman with tranquilizer dart
Spreadable coffee to put on your toast going on sale in Japan
After Party – Dental hygienists can tell.
Deepfake Sponsors: Julio Tejas, Booba Gettz The Crazy One, Thicccum Farmz
Added August 02nd, 2023