Episode 292: Jaunty Papaya Orange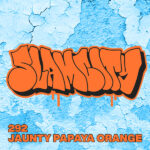 Burrito's new camera, yeast, socmed feeds, tech shabbat, wife beaters, Clam City, nacho cheese, location data, size Z prosthetic breasts, Funkos, chokehold, Genshin Impact, zombie virus, fake Jordan cards, and Burrito's Nippon Newz.
Double X Quantimino
Hypothetical Meta Analysis – Burrito is asked to do a tasteful nude photoshoot with his new camera.
"I love you too much to argue."
Yeast from there to make bread and beer
Slam Citizens' life pro tips on curating your feedz
A "tech shabbat" – Is Arthur already doing this and can you?
"What'd You Say, Delilah?" by Haynes Wife Beaterz
Clam City, OnlyClamz
Nacho cheese
Location data
This Is The Newz
Canadian teacher with size-Z prosthetic breasts, placed on paid leave
Over $30M worth of Funkos are being dumped
Norwalk math teacher accused of using chokehold on students resigns, official says
Genshin Impact Voice Actor Asks Fans To Bathe Before Attending Concert
Scientists have revived a 'zombie' virus that spent 48,500 years frozen in permafrost
82-year-old charged with sale of fake Michael Jordan cards
Burrito's Nippon Newz
Tokyo gang breaks no-weapons rule, shows up for fight with rivals carrying spiked bat
Unlicensed drunk driver involved in hit-and-run, makes pathetic attempt to avoid police
Japanese hotel gives you a beer tap in your room, 10 liters of craft beer to drink for free
Deepfake Sponsors: Julio Tejas, Booba Gettz The Crazy One, Thicccum Farmz
Tentative titles: "In Queso Emergency", "Lace Your Uncle", "What Did You Say, Delilah?"
Added August 13th, 2023